Daryl Hannah: the activist-actor who turned down Pretty Woman
Updated on Dec 06, 2013 10:44 PM IST
The star of films like Blade Runner and Kill Bill is as well known for her filmography as she is for her activism. Daryl Hannah talks about how she chooses her films and why she believes in giving a voice to the poor.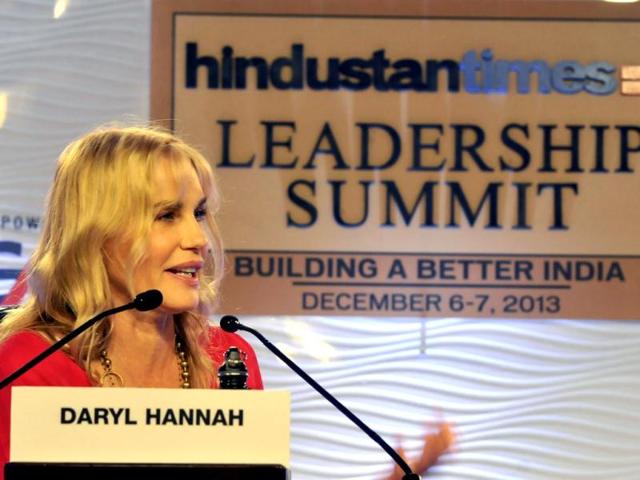 Daryl Hannah believes in questioning stereotypes. On her first visit to India to attend the HT Leadership Summit, the actor mingled with the audience, clicked photos (yes, including selfies), asked ever so politely if she could miss the lunch session and then sat down for a refreshingly honest interview.


The 53-year-old actor had famously rejected the role of Vivian Ward in Pretty Woman, later played by actor Julia Roberts. She says she refused the role as she felt it demeaned women.
"The entire idea about glorifying a woman for becoming a prostitute and then meeting your prince charming to go on to live happily forever sounded wrong to me. You cannot glorify prostitution like that - it is not a preferred career choice. It's really telling and tough circumstances that force you to become one and then it's not always that you meet your prince charming. And that was something that I had a problem with," she said.
The actor adds, "I don't have a problem with playing a prostitute but I had a problem with romanticising it. Prostitution is not a happy-go-lucky job."

Moving on to the quirky and whimsical roles that she is justly celebrated for - as Pris in Blade Runner and Elle Driver in Kill Bill Vol.1 and 2. The 53-year-old actor says, "I liked the idea of a character who's always different. I don't like playing the same roles again and again. I had a lot of roles being offered to me but I had to make sure that young girls didn't emulate the characters and lose their code of ethics," she said.

So, why does she choose Pris as her favourite role? "That's because the entire idea I had about cinema and films taking you to a different world came true with Pris. I have always thought that films have the power to transport you to a parallel world and with Pris, I could do that. A lot of kids these days want films to give them fame but I am not like that. In fact, I used to and still get nauseous at the very idea of fame."
Daryl, who described Hollywood as sexist during a talk in the summit, elucidates further. "It is true that the film industry is still predominantly male. Forget actors, there are not more than 30% women behind the cameras - and that's the problem."
She is also famous as an activist, especially when it comes to creating awareness about environment. She even went to prison in 2006 after she tied herself to a walnut tree. "It was my first act of non-violent disobedience for which I went to prison. I spent three-and-a-half weeks on that farm and made sure the story remained in the news and people kept talking about it. The poor are the worst hit by environmental degradation. I believe they need to have a voice and as an actor it is my duty to sensitise the public about these issues."

HT Summit:

Roll-over the image to listen to Daryl Hannah's interview