Cow activist, 4 others held after 2 Muslim cowherds hanged to death
Hindustan Times |
, Latehar
Vishal Sharma
Apr 25, 2018 12:25 PM IST
The bodies of the two Muslim cattle traders were found hanging from a tree in Jharkhand's Latehar district on Friday.
Five suspects, including a member of a local cow protection vigilante group, were arrested on Saturday for allegedly hanging to death two Muslim cattle herders in a communally-sensitive region of Jharkhand.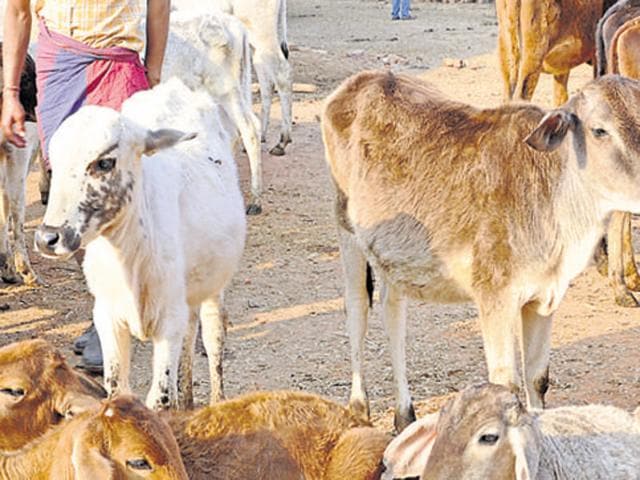 Mazlum Ansari, 32, and Imteyaz Khan, 13, were heading to an animal fair with a herd of cattle when they were allegedly lynched and hanged from a tree by a mob in Balumath on Friday. The area has a history of disputes between Hindus and Muslims over cattle trade and eating beef.
The incident brought back memories of the mob-lynching of Mohammad Ikhlaq in Uttar Pradesh last year over rumours he slaughtered a calf. The murder sparked off a nationwide debate over freedom of choice and religious intolerance since the BJP's rise to power in 2014.
One of the accused, Mithilesh Prasad Sahu, is linked to the Gou Kranti Manch, a group that works for preserving cow population and is opposed to their slaughter, police said.
They said all the suspects had confessed to killing the herders to snatch the cattle-heads and sell them elsewhere.
"Five of the eight persons involved in the twin murders have been arrested. Three others are absconding," said Latehar police chief Anoop Birtharay.
"We are also (investigating) if they were trying to force the cattle traders to cough up money as they had threatened them earlier also."
Police dismissed reports of fresh tension in Balumath, which had seen clashes between Hindus and Muslims over eating beef three months ago, but still banned large gatherings in the area until further notice.
The five accused hailed from Jhabar village under the Balumath police station area – around 100 kilometres from Ranchi. The village is close to the place where the bodies were found hanging.
"Barring one, the arrested persons had no past criminal records. They were engaged in petty business or farming in the village," Birtharay said.
Cow slaughter and the consumption of beef are banned in several states, including the BJP-ruled Jharkhand. But beef has become a religiously sensitive topic in the country, where the cow is described in scriptures as the "mother" of civilisation.
Hindus and Muslims have clashed repeatedly in the past two years since a save-cow campaign was launched in 2013 demanding a ban on cow slaughter and consumption of beef.
Read: Cattle traders found dead in Jharkhand: Instances of attacks over beef
In September last year, Hindus and Muslims clashed over an issue relating to the freeing of animals being transported in a truck by cattle traders.
The family of one of the murdered Muslims said the two left their homes on Friday with 10 to 12 cows to sell them at the annual cattle fair at Tutilawa in neighbouring Chatra district.
"We had lost telephonic contact with them at around four in the morning and later we came to know about their murder," one of the relatives told police.