In Bombay, Prohibition didn't just fail. It spawned the underworld
Published on Apr 17, 2016 11:59 AM IST
The city responded to the 1949 law with its characteristic opportunism, and one-time thugs and smugglers switched livelihoods. By the 1980s, the massive revenue from bootlegging had spawned one of the first underworld dons of Bombay — Vardarajan Mudaliar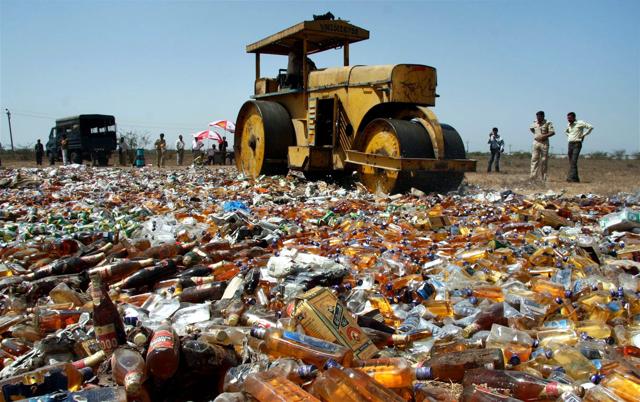 Hindustan Times |
, Mumbai
Riddhi Doshi
It was on a June night in 1982 that YC Pawar, then a deputy commissioner of police, first encountered the infamous bootleggers of Bombay.
"I was on patrol in Dharavi when my diver spotted a black car with tinted windows and informed me that it was a carrier of illicit liquor," says Pawar. "I turned on the siren and gestured to the car to stop. To my surprise, it didn't. Until that year, I had been posted in small towns in Maharashtra where people feared the police. I was outraged at this behaviour and gave chase."
After a 45-minute, sirens-blaring pursuit which Pawar describes as "more thrilling than a Bollywood movie", the bootleggers began throwing things at the cop car.
It turned out what they were throwing were tyre tubes packed with illicit liquor.
Nearly 25 years of Prohibition — first total, then conditional — had turned the brewing and sale of illicit liquor into a booming underground business.
From 1949 to 1963, all manufacture, purchase, transport and consumption of alcohol in the state of Maharashtra had been banned.
Read: Facts know about Bombay Prohibition Act of 1949
Bombay had responded with its characteristic opportunism, as one-time thugs and smugglers switched livelihoods, sensing a more profitable opportunity.
Most of the city's hooch units operated on their own man-made islands in what where then the far-flung, swampy suburbs of Dharavi, Goregoan and Antop Hill.
The bootleggers had poured truckloads of sand into swampy patches to create tiny reclamations where they could mix and brew. For extra safety, once the brewing was done the barrels filled with fermenting hooch were hidden underground.
In 1963, Prohibition was eased -- in part because implementation had failed -- and the ban on manufacture was lifted, but so few production licences were issued that supply was severely limited, while levies and prices remained high.
Read: What to know before you grab that drink
"In mid-1960s Bombay, legal supply was scarce and the bootlegging business remained well-organised and profitable," says Pawar. "I have always maintained that no illicit business can function without the police's help. So it was with this business too."
By the time Pawar arrived in Bombay, a clear hierarchy had formed, with the biggest of the bootlegging operations run by one of the first underworld dons of Bombay — Vardarajan Mudaliar.
The massive profits from the illicit liquor trade would act as the launchpad for a parallel economy with tentacles in everything from prostitution and gambling to Bollywood and, eventually, gun-running and terror.
Gangs formed and allied with one another to protect their territories. Their grip on the city, their ruthless wars and the deep inroads they made into local law enforcement would last decades. It would take a special squad, the 'encounter specialists', to break the back of the beast that was created as a byproduct of Prohibition.
The growing lawlessness and the loss of scores of lives at a time from hooch tragedies pushed the state to alter its law and Prohibition would eventually morph into the licence raj.
But it was only in the late 1980s and early 1990s, as the market opened up, that the illicit trade dwindled.
You still legally need a permit to get a drink in Mumbai, although this law is only rarely enforced. Bootlegging, on a small scale, still exists.
Read: Are you breaking the law in your kitchen?
"So does inter-state smuggling. Cheap alcohol from Haryana is often smuggled in," says a senior officer from the state excise department, speaking on condition of anonymity. "Around the world, and across the country, enforcement agencies have never been able to enforce complete Prohibition."
TIMELINE
* From 1949 to 1962, there was strict prohibition. Minimum consumption of foreign liquor was allowed on permits. Manufacture, import, export, sale and consumption of country liquor and toddy were totally prohibited.
* In 1963, the law was relaxed to grant liquor permits to people over 40 if a doctor said they needed it for health reasons. It was also decided to start manufacture of liquor in the state.
* In 1968, the consumption of mild liquor (beer) containing less than 5% alcohol and of toddy was allowed without permit by people over 21. The minimum age for a permit was also lowered from 40 to 30, though you needed a medical certificate.
* Prohibition was further relaxed in 1972, after more than 100 people died in Khopoli after consuming hooch that was mainly an alcohol-based industrial solvent.
* In 1973, permits to consume country liquor became available to people over 21.
Personalise your news feed. Follow trending topics