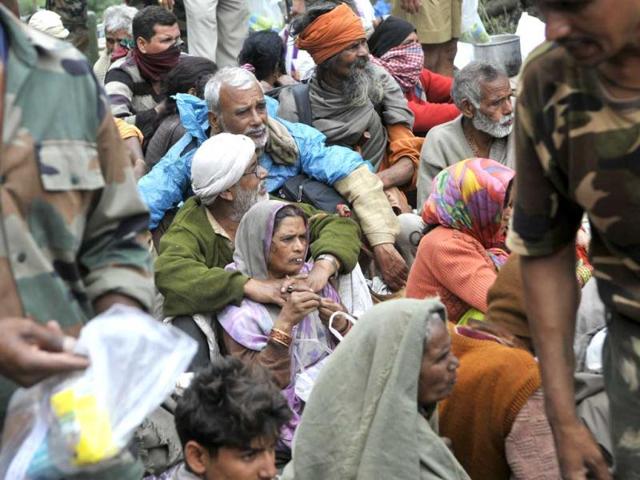 In devastated Uttarakhand, claims of rape and robbery
Chhattisgarh resident who barely managed to save his daughter from sexual predators at Jangal Chatti shares his harrowing experience; police say no such complaints received. Prithviraj Singh reports. Over 8,000 troops, 50 choppers engaged in rescue
Hindustan Times | By Prithviraj Singh
, Dehradun
UPDATED ON JUN 29, 2013 07:34 AM IST
The police are in denial mode, but locals said rape, loot and killing of Uttarakhand disaster victims at Kedar Valley did happen. Victims too claimed to have been at the mercy of criminals of all hues.
Locals said they helped the Ukhimath police arrest three men and recover R4lakh from them. But the police did not register any case against them, nor did they say where they were taken to. Most top police officers in Rudraprayag district remained incommunicado.
Swatantra Verma, a victim from Raipur in Chhattisgarh, said he traded everything he had to prevent four persons from molested his daughter in the Jangalchatti area near Rambara.
"They approached us on June 18 offering to take us to a safer location. Their attitude changed after it turned dark. No sooner did we reach Jangalchatti around 10pm than they pounced on my daughter," he said.
His wife Shalini said the experience was worse than the natural calamity they had escaped from.
A similar incident happened with a group of pilgrims from Gujarat. They too had to hand over their belonging to criminals to save themselves.
Gujarat principal secretary and disaster management commissioner PK Parmar said he didn't receive any specific complaint of rape from Gujarat pilgrims but he had heard about women disrobed and harassed in Kedar Valley.
There were also reports of miscreants chopping off body parts of corpses in front of the survivors. Police, however, said there were no criminal activities.
"We haven't received any complaint of loot or rape from anywhere. On the other hand, some 1,200 persons were screened at Rudrparyag area as a precautionary measure," said RS Meena, IG (law and order).
West Bengal transport minister Madan Mitra and state planning and development minister Rachhpal Singh alleged muleteers raped several pilgrims.
Close