India on a 'high' with 7 drug addiction related suicides every day
Updated on Nov 05, 2014 07:29 PM IST
Stark statistics reveal that around 25,426 people committed suicide due to drug and addiction related problems in the last ten years across India. Suicides due to drug related problems exceed dowry, poverty and money related suicides.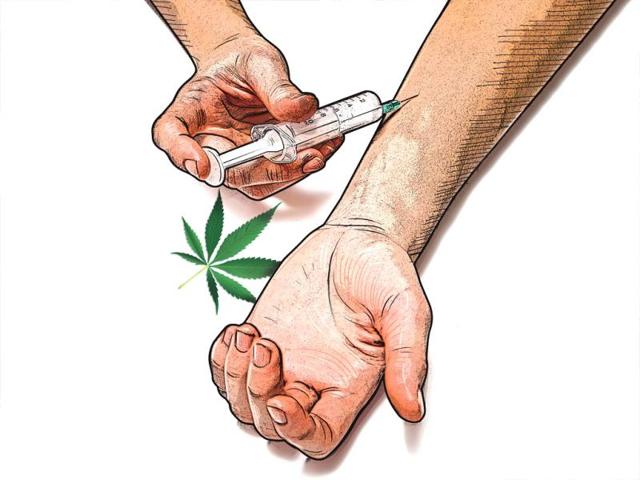 Hindustan Times |
, New Delhi
HT Data Team
Letters and pleas of the common man has made Prime Minister Narendra Modi sit up and address the rising menace of drug addiction in the country.

Modi on Tuesday touched upon the issue on a radio programme "Mann ki Baat" and invited views from people and NGOs on how to deal with the problem of drug abuse.

Modi also mentioned on the programme that many people wrote to him regarding the problem in a series of tweets on his official Twitter account.

He had said youth are the asset of the country and the nation cannot afford to see them falling to drug abuse.

"The issues I touch are the ones on which government comes under attack. But how long will we hide things? For good intent, the truth has to be spoken and I will keep doing it," he said.

He had said the government has a responsibility to address social problems like drug addiction and it will create an environment in this regard.

So, how tough is his challenge?

Statistics reveal that at least 25,426 people committed suicide due to drug and addiction related problems in the last 10 years across India. This comes down to an average 2,542 suicides every year, 211 per month and 7 per day.

Appalling truth is that suicides due to drug related problems exceed dowry, poverty and money related suicides in India in most of the last 10 years.
As per the graph, the number of suicides has been steadily increasing since 2004. From 2004 to 2013, we observe a jump of a whopping 149%.

According to official data from the ministry of social justice and empowerment, India has an estimated 3.4 million drug abuse victims. This number excludes alcoholics, who figure at around 11 million in the country.

India is highly vulnerable because it is sandwiched between two infamous drug routes and poppy growing areas, namely the 'Golden Crescent' on the northwest and 'Golden Triangle' on the northeast, where drugs are easily available.

The government undertakes remedial measures like Integrated Rehabilitation Centre for Addicts (IRCA) that provides counselling, treatment and rehabilitation services to drug abuse victims. But the numbers of IRCAs are very low.

Even though there are 3.4 million drug abuse victims, the government has only 401 rehabilitation centres functioning at present. That is an average of overwhelming 8,478 victims per IRCA.

Out of these 3.4 million drug abuse victims, a mere 0.3 million have registered themselves in these de-addiction centres, which is just 10% of the total figure.

And of the 0.3 million registered members about 0.15 million (50%) are from Maharashtra, Uttar Pradesh, Karnataka, Odisha and Manipur.

If calculated using 'per capita drug victims' then most of the northeastern states get lined-up on the top of the table as home to drug abusers.

Entry of drugs into the Indian market is another cause of grave concern. During the last four years (2011 to 2014), around 100 million kilogram of drugs were seized across India.


As we can see from the graph Punjab and the northeastern states lead the pack in drug seizures.

Drug abuse among the youth in Punjab was highlighted by Congress leader Rahul Gandhi during the last assembly election campaign in the state.

Even the information available in the public domain is old as no Indian agency has maintained drug related data effectively.

PM Modi's concern and his effort to bring the discussion to the public domain is a good start because drug abuse, which primarily affects the youth, takes a toll on health, leads to suicides and can hamper India's demographic dividend if not checked soon.
Data collection and story written by : Sourjya bhowmick (@sourjyabhowmick)
Visualization : Vignesh Radhakrishnan (@vinuthewriter)
Data Source: NCRB, Parliamentary data
*The types of drugs seized includes the following:
Amphetamine, Cannabis Plant, Cocaine, Ephedrine, Ganja, Hashish, Heroin, Ketamne, Lysergic Acid Diethylamide (LSD), Methylenedioxy-N- Methylamphetamine(MDMA), Methamphetamine, Methaqualone(Mandrax), Morphine, Opium, Opium Poppy Plant, Other Manufactured Drugs, Other Psychotropic Substances, Poppy Husk, Poppy Straw, Pseudoephedrine, Spasmo, Syrup, Tablets.
Share it in Flipboard
Don't miss data stories from HT. Follow our Data Magazine
Personalise your news feed. Follow trending topics