Jaitley launches media blitzkrieg to mark one year of Modi govt
The NDA government has ushered in an environment of enthusiasm on the economic front and it is taking decisions in order to promote development, finance minister Arun Jaitley said on Friday.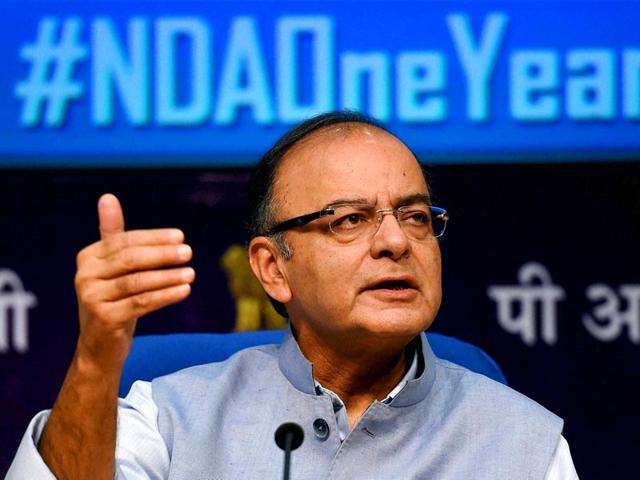 Updated on May 22, 2015 08:18 PM IST
India is poised for double-digit growth on the back of one year of "corruption-free governance", finance minister Arun Jaitley said on Friday, but admitted the government could miss its deadline to implement a nationwide goods and services tax amid criticism of the pace of economic reforms.
Jaitley said he was conscious that delays in Parliament in passing the key reform legislation that aimed to stitch together a national market by doing away with state-specific levies meant the Narendra Modi government was "cutting it too fine to reach the deadline" for its rollout next year.
The finance minister, however, listed controlling rapid inflation as an achievement of the government and added he thought the time was right for the Reserve Bank of India to cut interest rates to spur growth.
Video:Arun Jaitley speaks on one year of Modi government
​
"One year back, there was an environment of pessimism... there was general environment of gloom. In its place, an environment of enthusiasm has been created," Jaitley said, addressing the first of about two dozen press conferences by senior ministers to mark one year of the NDA government.
Asia's third-largest economy was growing at 7.5-8%, the finance minister said, adding there is a restlessness to grow even faster, which is the real potential of the country. India, he said, "has potential to touch double-digit growth rate" provided decision-making was quick, observing it was the unclear economic policies that led to the fall of the UPA government.
The BJP rode a tidal wave of support to power last year, promising to reverse the worst economic slump the nation has seen in 25 years but investors have recently started complaining that the rate of reforms was not fast enough.
Jaitley blamed the Congress for this, saying the party had positioned itself as anti-growth and anti-development for obstructing reforms measures like amendments to the land acquisition law, which the Opposition has called "anti-farmer" for taking away a crucial consent clause from a UPA-era law. Led by an aggressive Rahul Gandhi, the Congress has repeatedly blocked BJP-backed bills in recent months, especially in the Rajya Sabha, where the government in a minority.
"A very important highlight of the government has been to give a corruption-free administration to the country. The common man has been freed from political corruption. We are reforming and liberalising, but there is no place for crony capitalism," the finance minister said.
He also promised to tax corporate profits at competitive rates and said the government would do all in its power to implement a new national sales tax on time, amid growing accusations of surprise tax claims by the government, adding that a judicial resolution was in the works.
He rebuffed the Opposition charge that the government was working for industrialists and said the NDA regime was both pro-growth and pro-development.
"Our social security programmes are going to be one of the strongest ever in this country, but certainly the policy will be one of arms-length distance in terms of decision-making from individual business houses," he said.
Close Story
Personalise your news feed. Follow trending topics