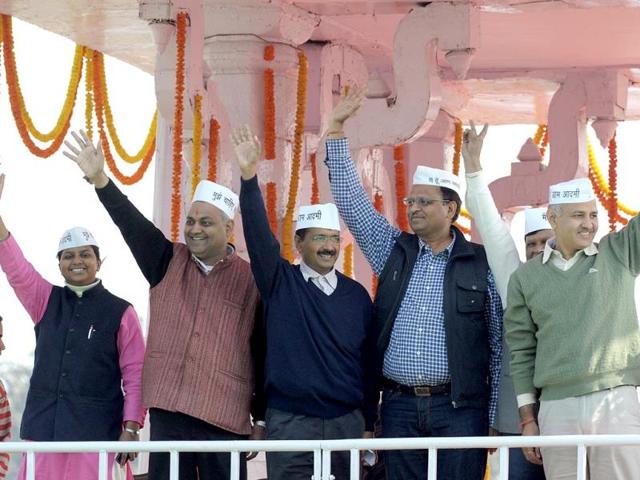 Kejriwal, news anchor video part of campaign to malign us: Aaj Tak
UPDATED ON MAR 10, 2014 09:09 PM IST
The India Today Group has termed the video clip which shows AAP leader Arvind Kejriwal asking a TV news anchor to highlight certain sections of his interview as part of a "motivated campaign" to malign its reputation.
The group said that no part of the interview was edited by the network.
The minute-long video has gone viral on Youtube.
"A video clip showing an Aaj Tak anchor in conversation with Kejriwal is being circulated as part of a motivated campaign to malign Aaj Tak's reputation as an independent channel which fearlessly broadcasts the truth," Ashish Bagga, Group CEO - India Today Group, said in a statement today.
"Aaj Tak has maintained its lead as the most watched news channel in India for 13 years by upholding the highest standards of journalistic integrity.
Read:
"India Today Group does not believe that media should take sides or choose favourites. The (Group) has subscribed to this philosophy for the last 38 years," Bagga said .
The video shows Kejriwal and the news anchor having a conversation after the interview. Kejriwal is seen asking the TV anchor to emphasise certain segments of the interview.
"Please play it up more," Kejriwal says in the video. To which the news anchor responds, "Yes, we will play it up. The Bhagat Singh (comment) is good. We will get a lot of reaction to this."
The statement added that the interview was aired live and in full on February 14 on all platforms of India Today Group.
"In the conversation, Kejriwal is asking the anchor to highlight parts of the interview. India Today Group wishes to categorically state that no part of the interview was edited by our network," the statement said.
"The entire interview was telecast live. Even for the repeat broadcast, the entire content was carried unedited," Bagga said.
Incidentally, the video was made public on the day when Kejriwal criticised the media and accused a certain section of it of being biased against him.
Close