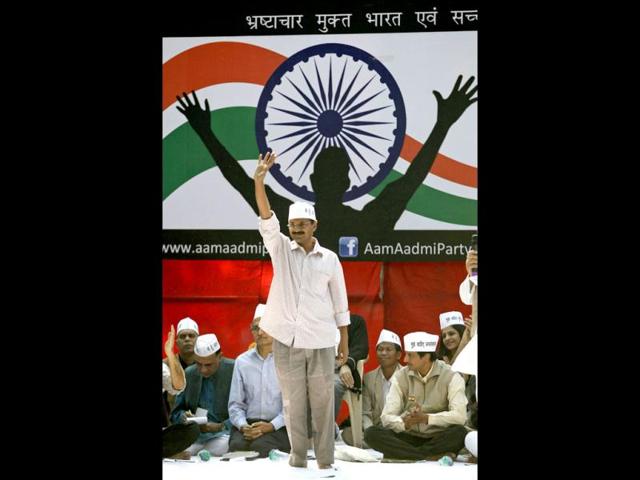 Kejriwal's off-record interview leaks after he criticises media
Arvind Kejriwal on Sunday accused the media of bias. Incidentally, a video showing AAP leader Arvind Kejriwal asking a TV news anchor to emphasise certain sections of his interview went viral on YouTube on Sunday. VIDEO INSIDE
UPDATED ON MAR 10, 2014 07:55 PM IST
Aam Aadmi Party leader Arvind Kejriwal on Sunday accused the media of bias saying while news related to the house with three rooms allotted to him was telecast repeatedly, there was nothing on Gujarat chief minister Narendra Modi giving farmers' land to industrialists.
"Modi snatched the land from farmers and gave them to Adani, the media never told you. That Kejriwal has taken a house with three rooms they will run the entire day," the ex-Delhi chief minister said at a rally in Mathura.
Read:Why Kejriwal should be wary of the aam aadmi
"What crime have I committed if I have taken a three-room house? I haven't taken a bungalow," he said.
Incidentally, a video showing AAP leader Arvind Kejriwal asking a TV news anchor to emphasise certain sections of his interview went viral on YouTube on Sunday.
Read:Kejri keeps firing, calls Modi claims mere numbers
The video, which is over a minute long, shows Kejriwal and the news anchor in a conversation after the interview.
During the conversation, Kejriwal is seen asking the TV anchor to give emphasis on certain segments of the interview.
"Please play it up more," Kejriwal says in the video.
To which, the television anchor responds: "Yes, we will play it up. The Bhagat Singh (comment) is good. We will get a lot of reaction to this." The interview was allegedly given by Kejriwal after he resigned as Delhi chief minister.
Close