Only stressed need of condoms, discipline: Harsh Vardhan
Updated on Jun 26, 2014 12:30 AM IST
India's Union health minister, Dr Harsh Vardhan, has expressed his disappointment over the way sections of the media have distorted his statements on the efficacy of condoms in the prevention of AIDS.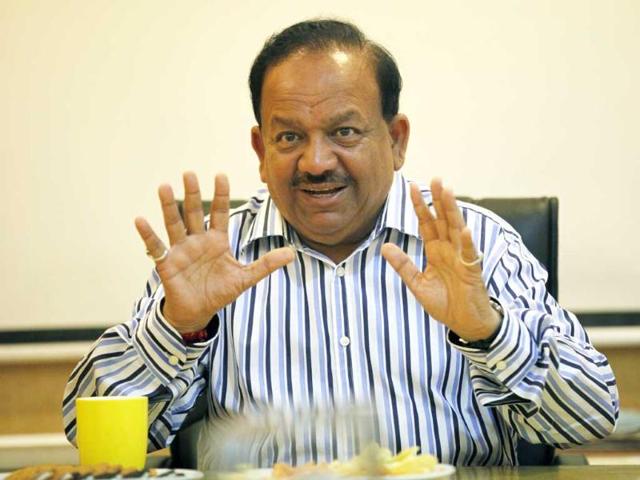 Denying having discounted the role of condoms in AIDS prevention, Union health minister Dr Harsh Vardhan on Wednesday that he was stressing the need for safe sex using a combination of condoms and discipline in line with UN policy.
"Through misleading headlines an impression is sought to be created that I have misgivings about the efficacy of condoms or that I have a moral problem with condoms. This is apart from the fact because for the past two decades I have been stressing the need for safe sex using a combination of condoms and discipline which is in line with the Abstinence-Be Faithful-Condom (ABC) line of UNAIDS which has yielded great success in Uganda and now forms part of the anti-AIDS campaigns of several countries," he said from the US, where he is on a five-day official visit.
"Any experienced NGO activist knows that condoms sometimes break while being used. That is why government campaigns in India, whether through the National Aids Control Organisation or state governments, should focus on safe sex as a holistic concept which includes highlighting the role of fidelity to single partners," he added.
Apart from stressing the need for safe sex, Vardhan pointed out his efforts to form a robust voluntary blood donation system throughout the country which would ensure safety as well as access to quality blood. "It will help prevent transmission of the HIV virus through contaminated blood transfusions," he said.
Vardhan has been critical of reports that sought to draw a connection between his statement and the criminalisation of same sex in India. The culture of regarding husband and wife as halves of a whole according to him should be upheld.
Personalise your news feed. Follow trending topics