Oppn ire on Lalit Modi row, Vyapam scam forces Parliament to adjourn
Updated on Jul 23, 2015 01:07 AM IST
The Congress party on Wednesday postponed a sit-in protest by its lawmakers outside Parliament after reportedly failing to get other political parties on board but continued to disrupt Parliament over various scams involving the ruling Bharatiya Janata Party (BJP) forcing both Houses to adjourn.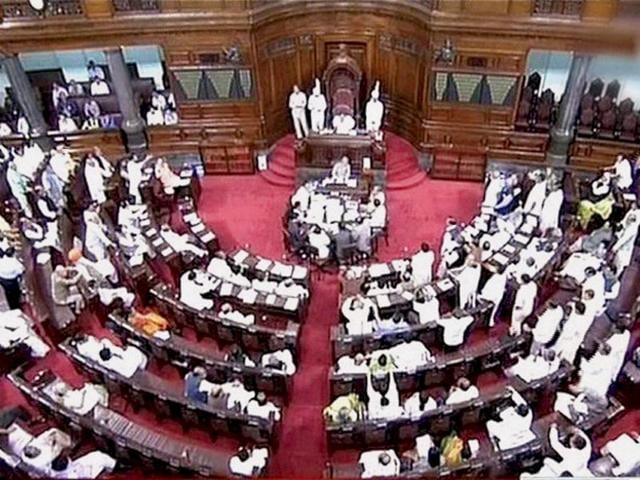 Parliament remained deadlocked for a second consecutive day on Wednesday as the Opposition disrupted both Houses demanding the resignation of top BJP leaders over the Vyapam scam and the Lalit Modi controversy but a combative government trained its guns at Congress chief ministers.
Neither the Lok Sabha nor Rajya Sabha transacted any legislative business as an aggressive Opposition rejected the government's offer of a debate on the second day of the monsoon session, threatening to derail a clutch of reform bills.
Congress legislators wore black arm bands and shouted slogans demanding the resignation of foreign minister Sushma Swaraj and Rajasthan chief minister Vasundhara Raje for allegedly helping ex-IPL boss Lalit Modi, besides seeking the removal of Madhya Pradesh CM Shivraj Singh Chouhan over the Vyapam scam.
But the government stuck to its guns and planned to outmanoeuvre the Congress by bringing the SC/ST Prevention of Atrocities (Amendment) Bill on Thursday to blunt the Opposition charge. In June, Congress president Sonia Gandhi had urged Prime Minister Narendra Modi to pass the legislation in the monsoon session due to a "distressing rise in incidents of atrocities" against Dalits.
In the Lok Sabha, speaker Sumitra Mahajan threatened disciplinary action against protesting Opposition members who carried placards that read 'PM chuppi todo' and 'Modiji 56 inch dikhao; Sushma, Raje ko turant hatao'.
Congress chief whip Jyotiraditya Scindia told reporters his party would use all democratic means to make its voice heard.
Swaraj tweeted she was ready for a debate in the House and threatened to disclose the name of a Congress leader who allegedly approached her to get a diplomatic passport for coal scam accused and former minister Santosh Bagrodia.
The 24-day session is crucial for the government, trying to infuse investment and unclog India's byzantine regulatory framework with a raft of reform measures, including the key goods and services bill.
"There has been enough of politics of slogan-shouting. You start with the debate. The House will not allow slogan-shouting," finance minister Arun Jaitley said.
He said the Vyapam scam was a state issue and if the Opposition wanted to change the rules and discuss state matters, corruption charges against Congress state governments would also be discussed.
Outside Parliament, the BJP accused Congress-ruled Uttarakhand's chief minister Harish Rawat of making money by tweaking the liquor policy to benefit private distributors and demanded his resignation, releasing a sting video to back the charges.
Rawat, however, rejected the allegations and said a desperate BJP was making the charge to deflect national attention from scams involving its top leaders.
Sparks also flew at a meeting of the Lok Sabha business advisory committee when Scindia and NCP leader Tariq Anwar walked out following the rejection of their pleas demanding business be decided after the ongoing deadlock was resolved.
The Congress also decided to coordinate better with other opposition parties both inside and outside Parliament. It has postponed a silent protest in the Parliament House complex and is now planning a joint protest with other parties. "On Wednesday, a senior Congress leader said he wanted to discuss plans to organise protests outside both Houses," a CPI(M) leader told HT.

Read:Sushma tries to corner Cong over Santosh Bagrodia, ex-MoS hits back
Close Story
Personalise your news feed. Follow trending topics