PM Modi to attend Abdul Kalam's last rites in Rameswaram
Updated on Jul 29, 2015 02:34 PM IST
PM Modi will arrive early in Rameswaram on Thursday morning and attend the rituals at around 11am, sources said.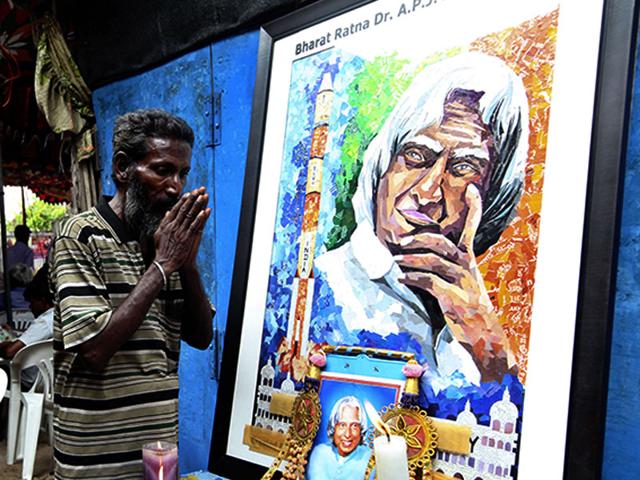 Prime Minister Narendra Modi on Wednesday described the death of former President APJ Abdul Kalam as a loss of "Ratna of Bharat" (Gem of India). Modi will be attending the last rites of former president APJ Abdul Kalam in Rameswaram on Thursday, as confirmed by union minister Venkaiah Naidu.
Naidu spoke to reporters at the Palam technical area from where the mortal remains of the former President were carried to his hometown Rameswaram by a special aircraft. He added that some chief ministers may also attend the funeral.
PM Modi will arrive early on Thursday morning and attend the rituals at around 11am, sources said.
In his tribute to the Bharat Ratna who died due to a major cardiac arrest in Shillong on Monday, Modi said, "Bharat has lost a Ratna. Our scientist-President - and one who was genuinely loved and admired across the masses - never measured success by material possessions."
"For him, the counterpoint to poverty was the wealth of knowledge, in both its scientific and spiritual manifestations," the Prime Minister said. He remembered Kalam as one who took little from the world, and gave all he could to the society.
"Kalamji refused to be defeated by circumstances. His character, commitment and inspirational vision shine through his life. He was unencumbered by ego; flattery left him cold," Modi said.
Describing the 'Missile Man' as a hero of India's defence, the Prime Minister said his contributions to "our nuclear and space achievements have given India the muscle to be confident of her place in the region and the world."
Modi said his profound idealism was secure because it rested on a foundation of realism. Kalam was "equally at ease before an audience of suave, globe-trotting ministers and a class of young students", Modi said.
Close Story
Personalise your news feed. Follow trending topics