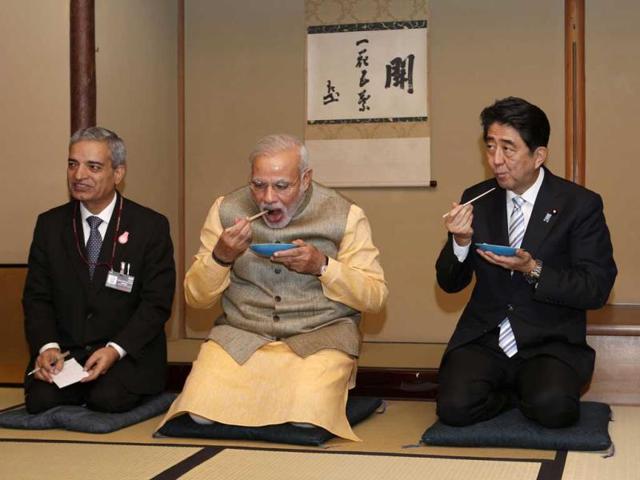 PM's Tokyo diary: From a snake and mouse game to a 'successful' Japan trip
On the busy penultimate day of his five-day Japan visit, Prime Minister Narendra Modi beat the drums, reached out to Japanese investors and stressed India's march towards digitisation. Here are some interesting snippets.
Hindustan Times | By Sitaraman Shankar
, Tokyo
UPDATED ON SEP 02, 2014 08:57 PM IST
Indian communities give the thumbs-up
Indian communities abroad seem to adore Modi, judging by comments on the Internet. That devotion was there to be seen, first hand, in Tokyo, when Modi landed at the Indian embassy to inaugurate the Vivekananda Cultural Centre. A small group of kids (and some parents) waited for four hours opposite the building for a chance to see their hero. They were not disappointed – an obliging Modi went across and spent five minutes chatting and being photographed with them. Karan, a 14-year-old boy, was delighted, claiming to have been a BJP supporter "all his life".
Enjoy karo, Modi tells journalists
Modi's relationship with the media has fluctuated over the years, and can often be described as prickly. But he was at his charming best at the embassy, inviting journalists for a group photograph, asking after them and saying, "Ab bas, enjoy karo" as he walked to another engagement to top off his punishing schedule.
Media has to keep pace
The Indian PM's stamina for public events is legendary, and Japan has been no exception. Tuesday saw him start the day at a girl's university in the morning and end it late in the evening at an Indian community event. The media trailing him had to keep pace, and adjust to the different Modi they saw at each event – charming investors, taking a shot at the secular brigade and telling Japanese children about chanda mama and suraj dada. As ever, Modi was tailoring the message for the audience.
Modi beats the drum
Modi has also revealed a unsuspected, or at least little known, talent for musical instruments on this trip. On Monday it was the flute (more precisely a wind instrument called a recorder) on which he played a few notes at an elementary school. But the piece de resistance came on Tuesday when he took – like a pro – to a pair of traditional Japanese Taiko drums. The real professional drummer, who had started proceedings, had to play at his best to keep pace when Modi took over.
The game of snake and mouse
Modi was on top form at the Indian community event, extolling the country's software engineers, with the neat phrase: "When they move a mouse, the world moves." And he quipped on the transition of the country from the snakecharmer stereotype to its modern IT avatar. "We have been devalued. We used to play with snakes, now we play with mice."
PM interacts with Netaji aide
Modi sets great store by past Indian heroes, and in his keynote address at the Japan-India Association and Japan-India Parliamentary Friendship League, he made a point to mention the oldest living associate of Netaji Subhas Chandra Bose. After the speech, he went over to the 99-year-old Saichiro Misumi, knelt in front of him and conversed using an interpreter.

Gita as a gift
The final event of the day saw Modi closest to the one we saw most often over the past year, in election mode. He referred to his gift of the Gita to the emperor (he gave a copy to Abe as well), saying that "secular" forces would now accuse him of making even the Gita communal, and wondering aloud about whatever that group would do without him. Needless to say, cheers rang out, and got louder when he said: "I had nothing bigger to give, and the world has nothing bigger to receive."
Close