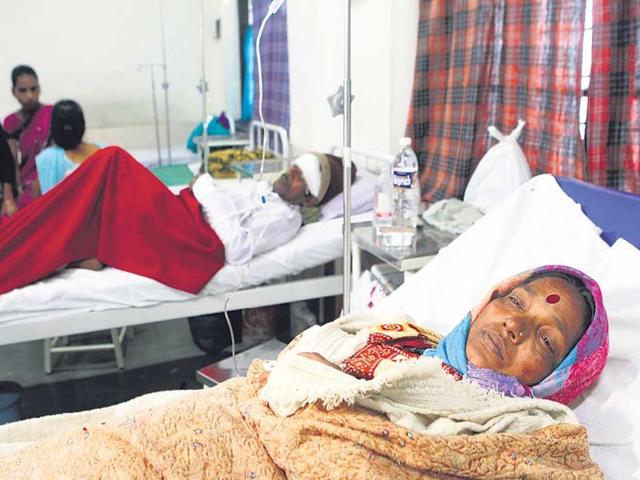 Pune landslide: Woman survives, but 25 relatives still missing
Even as rescuers had all but given up hope of finding many survivors, the wails of three-month-old Rudra had led them to the Lembhe family. Death toll hits 70, hopes fade
UPDATED ON AUG 02, 2014 11:23 AM IST
Kalubai Lembhe knows that she, her husband, daughter-in-law and three-month-old grandson are among the few who were lucky to have survived the Malin landslide.
But her relief is shrouded by the pain of possibly losing 25 of her loved ones from her maternal family.
There is no trace of her daughter, brothers and parents and, who are still trapped under the mud and debris.
Even as rescuers had all but given up hope of finding many survivors, the wails of three-month-old Rudra had led them to the Lembhe family.
Read: Death toll hits 70, hopes fade
"When the National Disaster Response Force (NDRF) team pulled me to safety, I was happy to see daughter-in-law, Pramila, husband, and Rudra alive. But the joy didn't last long as villagers informed me later that everyone else from my maternal family had been trapped and there was little chance of their survival," said Kalubai, still recovering from the shock of the tragedy.
Kalubai's maternal family lived on the upper side of the slope of the hill. As disaster struck on Wednesday morning, they were among the first go under the sludge and mud that came cascading down.
"One of my daughters had two sons aged between three and five years. Her entire family was trapped under thick layers of mud," said Kalubai, who is recuperating at a hospital in Manchar.
Read: Miraculous escape for three-month-old baby, family in Malin village
When visitors and the media inquired about little Rudra's health, Kalubai struggled to hold back tears at the thought of those she had lost.
Pramila Lembhe, 25, and her son Rudra were rescued by NDRF jawans around 4pm on Wednesday, almost eight hours after tragedy struck the village. Pramila's husband was not in the village at the time of the incident.
All of them are out of danger, hospital sources said.
Locals first saw a small window from where they heard a baby's cries.
They, along with NDRF officials, swung into action and brought the mother-son duo out. Within minutes Kalubai and her husband were pulled out alive.
Watch:Baby, mother rescued from debris
Close