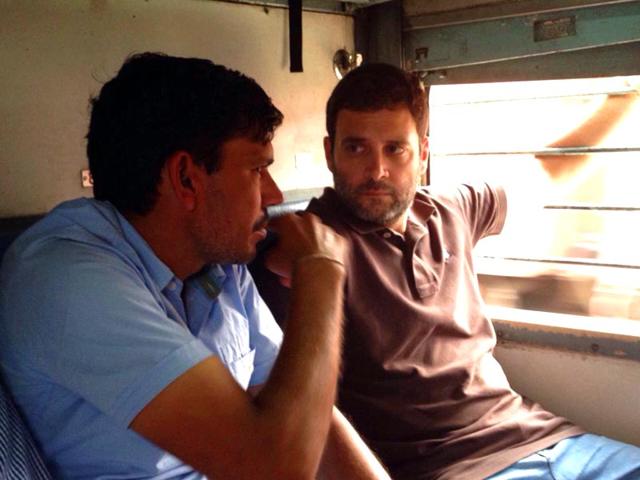 Rahul Gandhi takes train to Punjab, to spend night at farmer's house
Congress vice-president Rahul Gandhi is visiting Khanna and Gobindgarh in Punjab on Tuesday and will take stock of the situation in the state's grain markets where farmers are finding it difficult to sell their produce after the recent unseasonal rains.
UPDATED ON APR 29, 2015 01:31 AM IST
Congress vice-president Rahul Gandhi took his campaign against the farm crisis and the NDA government's contentious land acquisition bill to the grain bowls of Punjab on Tuesday, boarding a train to meet farmers who are struggling to sell their produce following unseasonal rain.
His visit comes at a time when several peasants in the state have committed suicide while farmers in the region have accused the government of tardy wheat procurement.
"Don't worry, I am with you," the 44-year-old told anxious farmers during a whirlwind tour of the grain markets at Sirhind and Mandi Gobindgarh. "I would come to Punjab again and again as long as your problems remain unsolved."
Watch: Rahul Gandhi takes a train to Punjab to take stock of farmers' issues
​
Following his return from a nearly eight-week-long sabbatical, the Amethi MP this month took charge of the Congress campaign against the land legislation, tearing into the government during a parliamentary debate and leading a large farmers' rally in the Capital.
"Who thinks about the farmer? They all want to take away our land," said Sher Singh, a 78-year-old peasant from Kullewal village. "The farmer has been devastated but the Parkash Singh Badal regime couldn't care less. If Rahul's visit creates pressure on the government the farmer will be saved."
The Congress leader hopped on to a train from Delhi to Ambala Cantt and then travelled by road to Sirhind. He was accompanied by party colleagues including MP Jyotiraditya Scindia, Congress in-charge of Punjab Shakeel Ahmad and state party chief Pratap Singh Bajwa.
"I had also stated in my speech (in Parliament) that those who provide grains to the country, food to the country, their land is being snatched from them. This is wrong and we will counter it," Gandhi said at the Delhi train station.
He was mobbed by party leaders and supporters as he got off a general compartment at Ambala Cantt where Punjab Congress president Pratap Singh Bajwa and his Haryana counterpart Ashok Tanwar were among those present to receive him.



Police and NSG commandoes struggled to control the crowds as Rahul breached security to mingle with labourers and farmers as he also clicked photographs with them.
He was expected to spend the night at a farmer's residence in Khanna, the constituency represented by late chief minister Beant Singh's grandson Gurkirat Kotli, which houses the country's largest grain market.
The visit to Punjab is a precursor to the kisan padyatra that the Congress leader will undertake next month to reach out to farmers, aiming to shore up his party's dwindling electoral fortunes on the back of public anger against the land legislation and agrarian crisis.
The Congress vice-president had recently attacked the government, alleging that it was "ignoring" the farming community and favouring the industrialists and rich people.
He has also accused the government of giving out contradictory figures about the damages suffered by farmers during the recent unseasonal rains.

Read: Farmers from Punjab in 'high spirits' for Rahul Gandhi's Delhi rally

Read: Rahul, Sonia Gandhi tear into Modi's land bill at farmers' rally
Close