Shah dares Cong to name at least one scam in 'non-corrupt' NDA era
BJP National President Amit Shah on Friday challenged the Congress to point out at least one scam during the Narendra Modi government's first year in office. "I challenge the Congress to level at least one allegation of corruption or scam against the Union government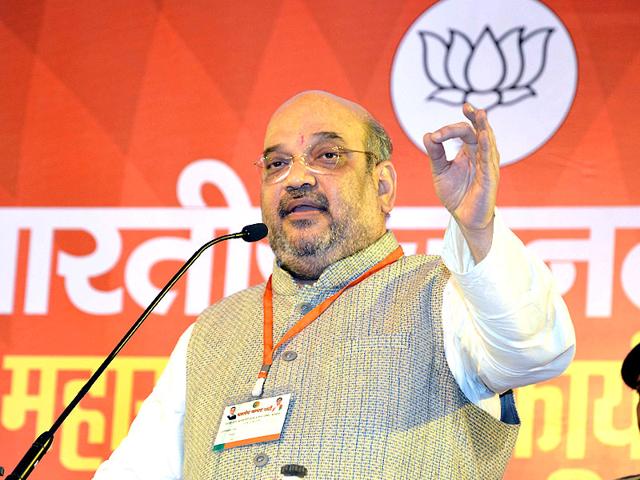 Updated on May 29, 2015 02:33 PM IST
BJP national president Amit Shah on Friday challenged the Congress to point out at least one scam during the Narendra Modi government's first year in office. "I challenge the Congress to level at least one allegation of corruption or scam against the Union government. They will not find a single instance of corruption against the Modi-led government. We are a non-corrupt government," Shah told a public meeting in Panaji.
The BJP chief accused the UPA government of unleashing a scam every month for over a decade. "During the 10-year Congress-led rule, there was a scam every month. Corruption was rampant. We have changed this situation," he said at the public meeting which was attended by more than 10,000 people.
Taking a dig at Congress, Shah said, "We have given a government which works for the people. When a Christian priest was arrested in Afghanistan, the Prime Minister intervened and got him back safely." He said that the prime minister understands the bite of poverty because he has endured it.
"Our prime minister has seen poverty. The man who rose to become prime minister from being merely a tea seller understands the difficulties of the poor," Shah said. "Can Congress give even a village-level leader from a poor background? In the Congress, the only criteria to become a party leader is to take birth in the Gandhi family, but the BJP has given a platform to people from across the spectrum. We have opened up politics and positions for the poor," he said.
Referring to Congress Vice President Rahul Gandhi, Shah said, "After returning from his vacation, Rahul 'Baba' asked if cross-border firing still happens in Kashmir. I want to tell him that cross-border firing still happens but the only difference is that earlier Pakistan used to start the firing and also used to end it. However, now Pakistan starts the firing and Indian forces end it."
Close Story
Personalise your news feed. Follow trending topics