Su-30 fleet plagued by engine woes, poor serviceability
Mar 17, 2015 08:16 PM IST
India's Sukhoi-30 fleet is plagued by engine troubles and is also battling poor serviceability.
India's Sukhoi-30 fleet is plagued by engine troubles and is also battling poor serviceability.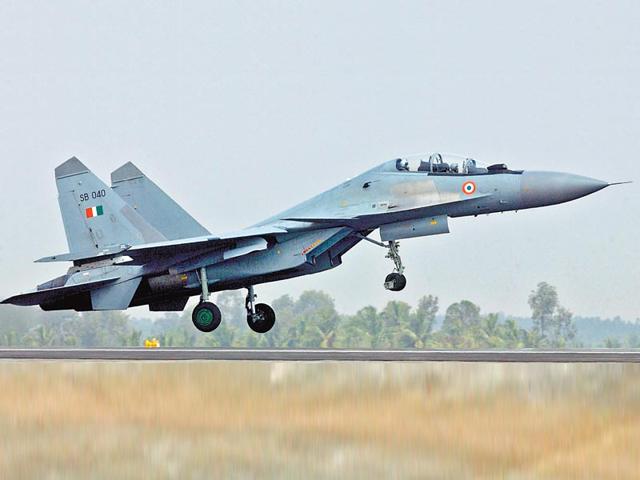 Defence minister Manohar Parrikar Tuesday said the Russian-origin fighters recorded as many as 35 engine failures/engine-related problems between January 2013 and December 2014.
Failure of bearings, used to reduce friction between moving parts, was the cause behind engine trouble, Parrikar told Rajya Sabha. As bearings operate under severe conditions, metal fatigue can cause particles to flake off or fragment leading to complications.
Parrikar said India had resolved the bearing problem by "arranging better lubrication (to prevent wear and tear), better fitment of bearings and better quality of oil."
"Out of total 69 cases in the last three years, 33 cases are due to finding of chips in the oil, 11 due to vibration in the engine (caused by bearing problem) and 8 cases because of low pressure of lubricating oil," Parrikar said in a detailed reply in the House. In all, engines coming in for overhaul will have nine modifications.
Five Su-30 fighters have crashed during the last five years, setting off alarm bells in the IAF and raising a question mark over the safety of India's frontline fighter.
The IAF operates close to 200 twin-engine Su-30s, with another 72 to be inducted. But only 110 fighter planes are fully serviceable. Parrikar said the serviceability currently stood at 56-57% but was likely to climb to 70% by the year-end.
"Serviceability has improved by 7% in last 8-9 months to reach to 56-57%," he said. The earliest Su-30s were inducted into the IAF in 2000.
"The number of mid-air engine failures is not shocking factoring in the flying hours the fleet has logged. But poor serviceability is a matter of concern. Ideally, it should be around 75% during peacetime," former IAF chief Air Chief Marshal PV Naik told HT.
Parrikar acknowledged India was staring at issues concerning spares and vendor support after the disintegration of Soviet Union.
India and Russia are currently sparring over what led to the crash of a Su-30 MKI near Pune last October. Russia blames human error for the crash, but the IAF refuses to accept it, deepening the mystery surrounding the crash.
HT was the first to report on October 22, 2014, the two pilots reported automatic seat ejection, a freak occurrence that led to the crash and grounding of the entire fleet for several weeks.