Telangana: India's youngest state faces worst ever drought, water crisis
Apr 25, 2016 06:21 PM IST
Reeling under a second successive drought, the country's youngest state is facing a water crisis, with scarcity hitting not just the villages and towns but even the capital Hyderabad.
Acute drinking water shortage due to drastic fall in water levels in major reservoirs, continuing crisis in agriculture and a harsh summer have made this the worst ever drought in Telangana, in living memory.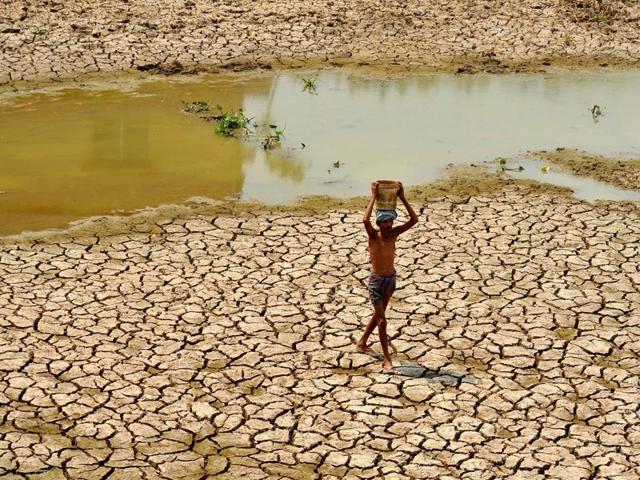 Reeling under a second successive drought, the country's youngest state is facing a water crisis, with scarcity hitting not just the villages and towns but even the capital Hyderabad, an information technology hub.
Stay tuned with breaking news on HT Channel on Facebook.
Join Now
Read | Flawed policies, poor monsoons turn central India into arid dust bowl
Dependent mostly on rain water, the state of 35 million people is witnessing migration of small farmers and farm workers to other states.
An acute shortage of water and fodder is forcing people, especially the farmers, to sell their cattle at throwaway prices.
Read|Heat wave spreads; Odisha, Telangana, Andhra worst-hit
Read|Drought triggers migration, distress sale of cattle in Telangana, Andhra
According to farmers' organisations, nearly 1.4 million people have migrated from the worst affected districts of Mahabubnagar, Ranga Reddy, Medak, Nizamabad and Adilabad. "The migration is indicative of how terrible the situation is," A.S. Malla Reddy, vice president of All India Kisan Sabha, told IANS.
People are mostly migrating to Pune, Mumbai, Bhiwandi, Ahmedabad and Surat looking for work.
The cattle used for farming and for dairy are being sold for 20-30 percent less price. "Hundreds of cattle are being brought to markets every day," said Malla Reddy.
The state, with the most number of farmer suicides, has been registering negative growth in agriculture. The drought is likely to deal another blow.
Out of 450 mandals or revenue units comprising varying number of villages, 231 have been drought affected. The farmers' organizations claim that 368 mandals are hit.
The foodgrain production was 6.5 million tonnes in 2015-16 as against the target of 11.1 million tonnes. Rice production was 3.5 million tonnes while the state's consumption is six million tonnes. The production of pulses and oil seeds also fell drastically.
Read|In times of drought: Overuse of water behind India's dry days
Projects have not started in many villages under the National Rural Employment Guarantee Programme (NREGP). And in villages where work is on, labourers are keeping away due to the intense heat.
The labourers have also not been paid their wages, said Malla Reddy. A report released by the Telangana Joint Action Committee (JAC) also pointed out that delays in payment of wages under NREGP were adding to the woes.
JAC committee chairman M. Kodandaram said the situation was scary in all districts. He said people in Nalgonda district had sold 70 percent of their cattle.
The state sought Rs.3,064 crore from the central government for drought relief but New Delhi announced Rs.791 crore. Of this, only Rs.400 crore has been released. The farmers say the disbursement of compensation for crop losses is yet to start.
For drinking water supply, the Centre released Rs.72 crore against the state's request for Rs.555 crore.
The government has come under criticism for hiding heat wave deaths. The officials are giving contradictory figures.
According to one official, 45 people have died this season. Unofficial figures put it at 200. "Every day 20-25 people are dying of heat wave," says Malla Reddy.
Read|Soaring temperatures put 330 million at risk, says govt
The Kisan Sabha has opened 'Ragi Ambli' (porridge) centres for the poor, including in Chief Minister K. Chandrasekhar Rao's constituency of Gajwel in Medak district.
The Telangana Rashtra Samithi (TRS) government claims it is taking steps to provide relief. It continued the midday meal scheme for school children even after declaring summer holidays for schools.
The government says it is working on ambitious projects to find a lasting solution to recurring drought. These include redesigning irrigation projects, Mission Kakatiya for restoration of irrigation tanks and Mission Bhagiratha for piped drinking water supply to every household.
A farm leader pointed out that governments in undivided Andhra Pradesh spent over Rs.90,000 crore on irrigation projects between 2005 and 2014 but these could irrigate an additional land of only 100,000 acres.
Malla Reddy, 78, says this is the worst drought he has seen. "There was a severe drought in 1972, but the government tackled it by opening grain centres in villages and supplied essential commodities to the people."
Water in most of the 14 major reservoirs across the Krishna and Godavari rivers has reached dead storage level. The ground water in the state during March plummeted by 2.5 metres.
Four reservoirs which serve drinking water to Hyderabad have dried up. The city of over ten million population is relying on two reservoirs on the Krishna and Godavari rivers.
The situation is worst in other towns, where most people have no piped supply and the municipalities supply water through tankers once in a week.