Drought triggers migration, distress sale of cattle in Telangana, Andhra
Updated on Apr 28, 2016 12:19 PM IST
Farmers in Telangana and Andhra Pradesh, which are in the grips of one of the worst droughts in recent times, have been forced to migrate to cities in search of jobs and sell off their cattle at half the price.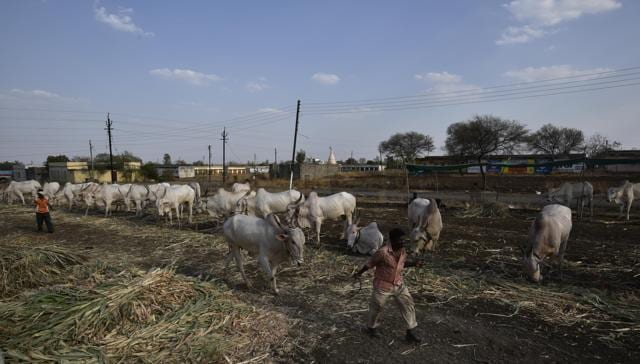 Farmers in Telangana and Andhra Pradesh, which are in the grips of one of the worst droughts in recent times, have been forced to migrate to cities in search of jobs and sell off their cattle at half the price.
Almost the entire Telangana and parts of Andhra Pradesh are in the grip of water scarcity with water levels in most of the major reservoirs across Krishna and Godavari rivers reaching dead storage and ground water plummeting further.
Scarcity of fodder and lack of water has forced small farmers in the worst-hit Mahabubnagar, Nizamabad and Nalgonda districts of Telangana and in perennially drought-prone Anantapur district of Rayalaseema to sell their cattle to slaughterhouses. Farmers, who keep milch animals for additional income, are selling them off at half the price.
"I couldn't have seen it dying of hunger and thirst. So I sold it away," G Narsaiah, a farmer from Nalgonda district who sold the only bullock he had at the weekly market in Kondamadugu near Bibinagar, said.
Reports say many farmers have even abandoned their cattle and migrated to cities.
Telangana government has declared 231 mandals or revenue units comprising a varying number of villages out of total 443 in the state as drought-affected. In Andhra Pradesh, 359 mandals out of 670 have been declared drought-hit.
The water levels in 14 major reservoirs serving both the states have fallen alarmingly. The water available in all of these reservoirs was 224 TMC as on April 21. The availability was 233 TMC the same day last year. Two of them have completely dried.
In Telangana, which is largely dependent on groundwater, the level has plummeted further. According to the latest report of the groundwater department, the average level for the state in March was 14.88 meters. The same in March last year was 12.27 meters.
Hundreds of farmers and agriculture labourers from Mahabubnagar, Nizamabad and other districts of Telangana and from various parts of Rayalaseema have migrated to cities like Hyderabad, Vijayawada, Bengaluru and Mumbai to work as construction labourers.
While migration is an annual phenomenon, the numbers this year have gone up due to the severity of the drought.
Failed harvests have also forced poor farmers to borrow money at high interest rates for buying seeds, fertilisers as well as food for themselves and their cattle. They also mortgage their lands to facilitate weddings.
A number of distressed farmers who have been unable to repay their loans are driven to suicide.
National Rural Employment Guarantee Programme (NREGP) has also taken a hit because of the scorching summer and non-payment of wages to the labourers.
The heat wave has further added to the people's miseries with maximum day temperatures hovering between 40 and 43 degree Celsius in Telangana and Rayalaseema region of Andhra Pradesh. It has already claimed more than 100 lives in the two states.
Telangana has declared holidays for schools a week in advance due to the soaring temperatures. The government has announced that midday meal scheme for school children will continue even during holidays.
However, there are not many takers for this as the children have to cover a distance of two to three kilometres to reach their schools and the intense heat is forcing them to remain indoors.
Targetting the Telangana Rashtra Samithi (TRS) government for failing to take tackle the situation, opposition parties and NGOs are demanding relief measures on a war footing. They want the government to arrange food for children, handicapped and aged near their homes.
Millions of people in at least 13 states in the country are reeling from severe drought and many regions in the country have been facing water shortages.
Earlier, this month the Supreme Court had urged the Centre to immediately provide relief to drought-hit states, pointing out that soaring temperature in the summer of 2016 would worsen the situation.
In Maharashtra, the government had to send a "water train" carrying half a million litres to the worst-hit district of Latur. The Jaldoot, the water train between Miraj and Latur, has made 10 trips and supplied 70 lakh litres of water in the past two weeks. The train has now been upgraded with 50 wagons.
The government has promised to continue the supply till the onset of monsoon.
The meteorological department has said this year's monsoon rains could be above average, amid a receding El Nino - a warming of the eastern Pacific Ocean that leads to dry spells in South Asia.
Personalise your news feed. Follow trending topics