Turning it their own way
Updated on Aug 25, 2012 12:22 AM IST
Both R Ashwin and Jeetan Patel have a flaw that has made experts question their calibre to play Tests. Khurram Habib reports.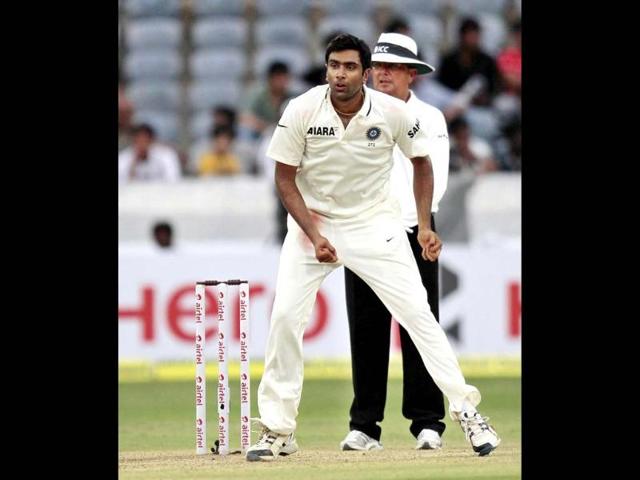 Both R Ashwin and Jeetan Patel have a flaw that has made experts question their calibre to play Tests. They are both defensive spinners, cut out for limited overs cricket, with the ability to contain the batsmen.

However, thanks to their confidence and perseverance on a wicket that aided spin even on Day Two, they walked off, having shared the top honours on Friday.
Ashwin, after an ordinary series in Australia (9 wickets but with no impact), is refining his art while Jeetan, a 32-year-old who has played just 13 Tests over six years, is hoping for a turnaround. And he had a job to do, in the absence of skipper and main spinner Daniel Vettori, who is injured.
"We definitely missed Vettori but it is an opportunity to play in place of him," admitted Patel after taking a four-wicket haul, including the wickets of Cheteshwar Pujara and MS Dhoni, both by forcing them to attack.
Applying pressure
Ashwin, who got three of the five Kiwi wickets that fell, looked really dangerous, partly because he was bowling to batsmen inexperienced to tackle spin on such a pitch. It was also because he has height and variety.
Not a great turner of the ball, he has the carom ball, a delivery like doosra but which moves faster through the air.
The process of refinement, it seems, has begun through the use of that carom ball with discretion.
"It is certainly not an attacking ball. I can't always bowl carom ball in Test cricket. Unlike in one-day cricket
where batsmen go for shots, it cannot be used so often here," he said.
"I have always relied on my off-break as my stock ball."
That was on display as he took none of the wicket through the carom ball. All his deliveries were off-breaks, one of which didn't turn much, against the left-hander Daniel Flynn.
He was lucky that Dhoni brought him on so early so that he could exploit the extra bounce of the hard new ball, and also the grip through the pronounced seam.
"Once the ball got older, it was difficult to get that much purchase," he said.
Ashwin's biggest test will come in the big series against England and Australia later in the season. But by then, he should be ready.
Personalise your news feed. Follow trending topics