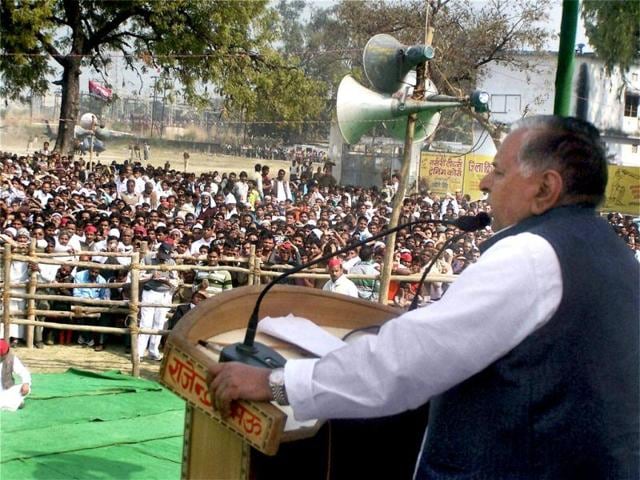 Upbeat SP says, Mulayam will be CM, not Akhilesh
With his party emerging as the frontrunner in exit polls for Uttar Pradesh, SP chief Mulayam Singh Yadav on Sunday thanked party workers for their hard work during the elections. Pankaj Jaiswal reports.
UPDATED ON MAR 05, 2012 11:00 AM IST
The Samajwadi Party (SP) is awaiting coronation.

But its national president, Mulayam Singh Yadav, 'vows' silence.

"Whatever I have to say, I will say on March 6," he said on Sunday at the party office.
But he was generous to his party workers: "Because of all the hard work you put in, there are all possibilities of the Samajwadi Party forming the next government."
The scale of the buzz at the SP's office made the offices of other parties look dull.
Perhaps bolstered by the added confidence from the favourable exit polls, the Samajwadi Party is projecting Mulayam to be chief minister.
"Only Mulayam and not Akhilesh Yadav (son) will be coronated if the party is far from a majority but still makes the coalition government by virtue of being the biggest party. Akhilesh will have to wait a bit," said a party leader.
Akhilesh, who is the party's UP president, and whose name was floated first by Mulayam's younger brother and the leader of opposition in the assembly, Shivpal Singh Yadav, nearly a month ago, issued statements on Sunday: "Netaji will be CM. We will attain a majority. And I won't even be deputy chief minister."
About Mulayam's silence, the senior leader and the party's chief whip, Ambika Chaudhary, said: "What can be a better statement than silence."
Chaudhary said a leader of Mulayam's stature would not make any frivolous statements in the way senior leaders of the other parties were doing.
"What is the point in talking hypothetically? He (Mulayam) never talks hypothetically. The results are round the corner. He has not taken any vow of silence, he is waiting and not impatient," said Chaudhary.
Close