Man frees dolphin caught in net, what happens next may surprise you. Watch videos
Published on Dec 05, 2020 11:37 PM IST
Nicholas Tuduri took to Facebook to share the videos that show the rescue.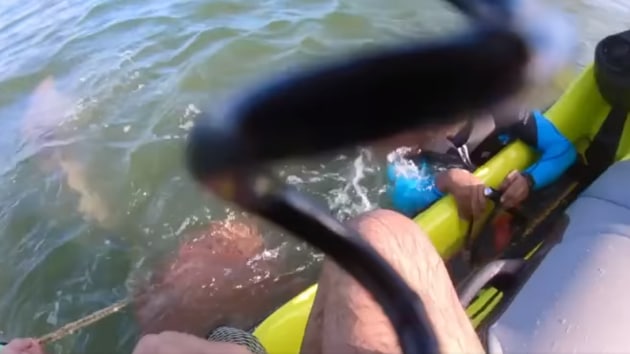 Hindustan Times, New Delhi |
Trisha Sengupta
There is something absolutely amazing about rescue videos which often surface on the Internet. They showcase the brighter side of humanity as people give their all to help the animals in need. Such is the case with these videos shared by Nicholas Tuduri showing a rescue of a dolphin that got its tail caught in a fishing net.
Tuduri and his friend were out to have an exciting time riding jet skis in Florida when they came across the animal in need, reports Global News. It turns out the rescue started when they were about 20 minutes into their ride.
"Rescued a dolphin last week with my buddy Craig. Her tail was caught in a loop of thick braided nylon rope tied up to a heavy crab cage. It felt like she was asking for help the way she swam up to me. Glad we were there to assist. One good deed at a time," Tuduri wrote.
Take a look at the entire post complete with the videos:
That is, however, only the first part of a whole story. In another post, Tuduri shared how the "whole family" of the rescued dolphin ended up swimming with him as if to express their gratitude. The post is complete with two videos showing the scene.
"After rescuing the dolphin, the whole family wanted to swim with my ski. Pretty sure they were giving thanks," he wrote.
Since being shared, both the videos have received tons of comments from people. Netizens couldn't stop thanking Tuduri for his thoughtful gesture.
"Wow, what an amazing experience. It does seem that they indeed were thanking you. So sweet," wrote a Facebook user. "That's so awesome," expressed another. "Omg! That is amazing," commented a third.
"I think once the dolphin realized that we had the cage up to the surface and (it) didn't have to fight us so much to try to breathe, (it) just floated and stayed there with us," Tuduri told Fox News-affiliate 7 News Miami, cited Global News.
He also talked about the little reward he received after freeing the animal. "It must have been maybe seven or eight of them came right up to my jet ski and started swimming with my jet ski. I think they were thanking me," he added.
What do you think of the videos?
Also Read | Owners save puppy from being strangled by python, later frees python in the wild too
Personalise your news feed. Follow trending topics