Cow dung-fueled biogas cuts Kota dairy's monthly power bill by Rs 2 lakh
Published on May 16, 2017 06:41 PM IST
A farmers' family in Kota has set up a biogas plant in their dairy using cow dung to generate power which is saving them Rs 2 lakh a month in electricity bills.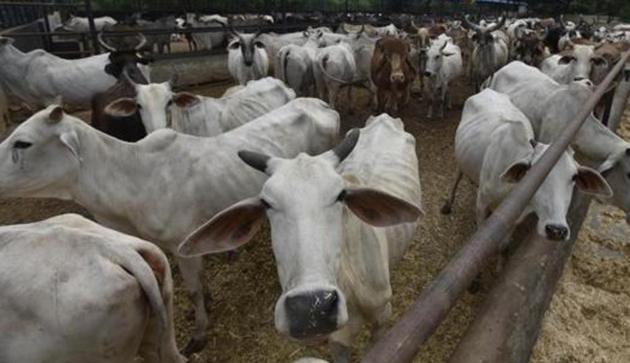 Hindustan Times, Kota |
Aabshar H Quazi
Cow dung is helping a family of dairy farmers cut their electricity bill by around Rs 2 lakh every month.
Four months ago, three brothers - Gagandeep Singh, Amanpreet Singh and Uttamjyot Singh who own a dairy named Gau farm in Thegra area of Kota, began operating their biogas power plant, fuelled by the dung of over 100 cows at the farm.
Amanpreet Singh (27), who is an electrical engineer by training, told HT that the biogas power plant which has an 80 KV generation capacity now generates 40 KV of power.
"On an average around five tons of cow dung is generated daily at our dairy farm having over 120 livestock (cows) which is used to generate biogas electricity from our biogas plant," said Amanpreet who will address farmers about cow dung uses for commercial benefit at the Global Rajasthan Agritech Meet (GRAM) to be held in Kota from May 24 to May 26.
"The biogas plant is meeting most of the power requirements of the dairy farm including the robotic system, milking machines, chilling units, foggers, fans, milk parlour and lot many other electrical appliances," he said.
But the power from the biogas plant is currently not enough to meet all the needs at the farm which is spread in around 40 acres where organic cattle feed is cultivated and harvested using several agricultural machines. So, they also draw power from distribution companies (Discom) and solar power systems.
He claimed that while the electricity bill amounted to Rs 5.50 lakh to 6 lakh per month prior to the establishment of the biogas plant, it has now come down to around Rs 4 lakh per month.
"We are hopeful of saving around Rs 22 to 24 lakh per annum on electricity bill which is a huge amount and can be considered our earning from the biogas power plant," he said.
Personalise your news feed. Follow trending topics