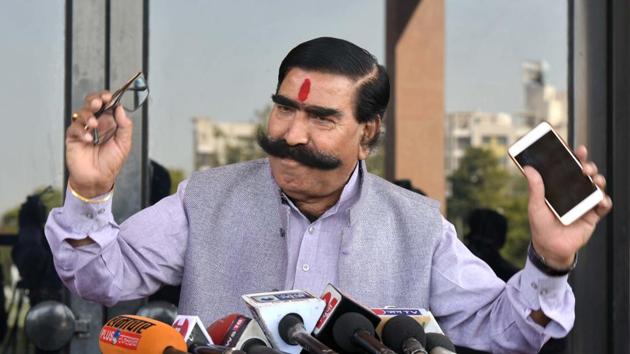 In Rajasthan assembly, its own corner BJP govt over law and order
At least three MLAs questioned the government over rising crime in Alwar.
UPDATED ON FEB 26, 2018 10:45 PM IST
Expressing concern over rising crime in Alwar district, BJP MLAs on Monday cornered the home minister, and demanded that two superintendents' of police be posted in the district.
During question hour, BJP MLA Banwari Lal Singhal asked home minister Gulab Chand Kataria why no steps have been taken for deputing two SPs in the district for effective maintenance of law and order. Singhal said that they have been demanding two SPs for last five years, but the government has done nothing except saying 'it is under consideration'.
He added that cow smuggling is still on via Jaipur and Dausa. The smugglers are opening fire on policemen.
BJP MLA from Ramgarh (Alwar) Gyan Dev Ahuja alleged that the maximum number of betting rackets is in Alwar and involves Rs 10,000 crore. He also said that there are several units involved in synthetic milk production in Alwar. He added that the nature of crime in Alwar is such that vehicles are stolen and thieves contact the owners and ask them to settle the matter within themselves and not to involve the police.
Ahuja even asked parliamentary affair minister Rajendra Rathore to listen to the truth, when he tried to intervene. He demanded the removal of Alwar SP alleging that he did not reveal the true crime figures.
Another BJP MLA Ramhet Yadav also raised the issue of crime in Alwar and said that most of the cases of motorcycle and transformer theft are closed by Alwar police without any recovery.
"I accept that in comparison to other districts crime is more in Alwar, looking at which we also agree on the proposal of two SPs. The proposal is under consideration and the government will take a decision according to the availability of budget and resources," Kataria replied.
Kataria informed the house that as many as 17,405 cases were registered in Alwar in 2017.
He said that all steps were being taken to check crimes. Special outposts have been set up in Alwar and Bharatpur districts to check smuggling of cows and as a result, smuggling has significantly gone down.
BOX: deputy speaker reprimands MLAs
Deputy speaker Rao Rajendra Singh on Monday reprimanded members of the house over maintaining order. During zero hour, opposition whip Govind Singh Dotasara raised the issue of regularisation of Vidhyarthi Mitr. Dotasara alleged that the government in Suraj Sankalp promised regularisation of various services but have done nothing. When he started levelling allegation on government and the chief minister, the ruling BJP ministers and MLA objected, which led to chaos.
The issue was raised as the adjournment motion was to be replied by Panchayati Raj minister Rajendra Rathore.
Reacting to the disorder, Singh said, "How parliamentary secretary is competent enough to actually answer a query which has been put forward to the minister concerned?"
Referring to chief whip Kalu Lal Gujjar, Singh said, "And what about you Sir? Please sit down. Sit down for a while. I'll not allow that. As and when, if you want to actually improve your CRs. You better improve by doing something concrete not by disturbing the House. Do you want assistance Mr. Minister, Sir? You better be very careful about it. And you remain confined to your motion. Don't try to derail it otherwise, I'll not allow it."
Close