Kumar Vishwas may be replaced as AAP Rajasthan in-charge
Senior members of AAP Rajasthan are unhappy with Vishwas.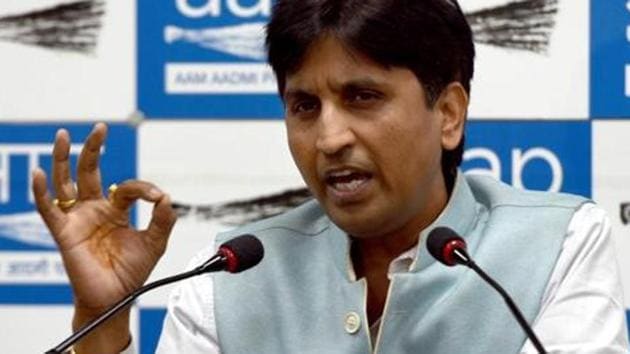 Updated on Jan 10, 2018 05:00 PM IST
Aam Aadmi Party (AAP) plans to replace Kumar Vishwas as the party's Rajasthan in-charge because he was not taking interest in the affairs of the state unit, a senior Rajasthan AAP leader has said.
Senior members of AAP Rajasthan are unhappy with Vishwas for not devoting time and resources even after knowing that Rajasthan goes to the polls in December. While they wanted Vishwas to take an active interest in building the organisation in Rajasthan, Vishwas was keen to enter Rajya Sabha from Delhi.
"Vishwas Ji himself has expressed regret that he was not able to devote much time to the party. AAP's political affairs committee (PAC) is considering his replacement and names of other senior leaders, including Manish Sisodia and Ashutosh, are being considered," Rajasthan AAP leader Devender Shastri said.
AAP has decided not to contest the Rajasthan bypolls even though party cadres were keen to field farmer leader Rampal Jat from Alwar Lok Sabha seat. Jat has subsequently filed his nomination as an independent candidate.
In December, the state leaders wrote to Vishwas expressing their angst, saying that his 'prolonged absence' from the state has deeply damaged the party.
"Our main concern is that we are lagging behind in preparation for the 2018 assembly elections in terms of building our organisation in Rajasthan and time is running out. While we have decided not to contest the bypolls, the party has already declared that we will be contesting the assembly elections from all 200 seats," he said.
Kumar has visited the state only four times since he was entrusted with the job of overseeing the party affairs in the state in May 2017. The state unit of the party is also facing a severe fund crunch.
AAP contested from 29 seats in the recent Gujarat assembly elections where all its candidates lost their deposit. The Gujarat debacle for AAP comes after its equally dismal performance in Goa elections where 38 of its 39 candidates had their deposits forfeited. The party's performance in Punjab was nothing to write home about either.
Kumar Vishwas did not respond to calls and text messages. Another senior party leader in Rajasthan, Ashok Jain, said he had heard talks about a change in leadership but there was no concrete development.
Vishwas was made Rajasthan in-charge in May 2017 as a compromise formula. The rift among AAP founder members came to fore again last week when Vishwas took a dig at Arvind Kejriwal after he was denied a Rajya Sabha ticket.
Close Story