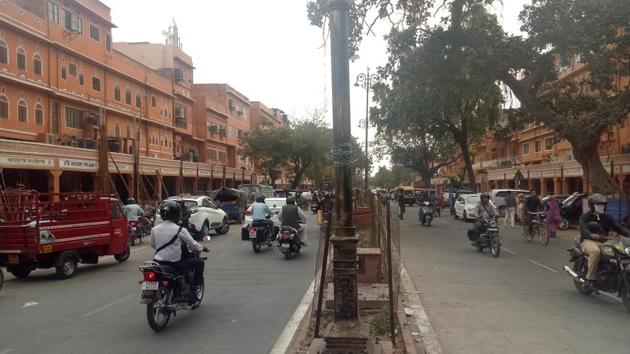 Lack of markings, encroachments on roads ails 'smart city' Jaipur
Jaipur is among 100 cities in the country to be developed as smart cities under the Smart Cities Mission by the Union ministry of housing and urban affairs
PUBLISHED ON MAR 13, 2019 04:53 PM IST
Lack of road markings and encroachments ail the 'smart roads' of Jaipur. The roads lack not only specific markings for non-motorised vehicles, but also specific zones for vendors; and unenforced parking spaces add to the chaos.
Jaipur is among 100 cities in the country to be developed as smart cities under the Smart Cities Mission by the Union ministry of housing and urban affairs. The Jaipur Smart City Limited had undertaken facade development and smart road construction in nine markets in the city. The smart road construction included concrete roads with separate spaces for pedestrians, parking, and non-motorised vehicles like e-rickshaws and cycles.
On each side of the 27.6 metre stretch of the road, 1.8 metre is specified for pedestrians, 2.5 metre for parking, 2.5 metre for non-motorized vehicles, and 6.5 metre has for a two-lane road for motorized vehicles. The measures are replicated on both sides of the roads, with a 1.2 metre median in the middle.
Even though the construction of the smart road at Kishanpole market has been completed, encroachments and lack of marking for specified spaces is leading to no change in the condition of the road.
Shopkeepers at the market said that traffic congestion did not change even after the smart road came into use. "Traffic jams were common when the roads were being constructed. Even now that it has been constructed, there is no change since the commuters cannot see specified marking. Moreover, the new rule is also not enforced properly," said one of the shopkeepers at the market.
Alok Ranjan, chief executive officer of the Jaipur Smart City Limited said that the road markings would be completed in a month. "The road markings for the non-motorised vehicles will be completed in a month. As far as enforcement is concerned, discussions will be held with the other stakeholders involved such as the traffic police and Jaipur Municipal Corporation to work out the further plans," said Ranjan.
Close