NTCA asks Rajasthan to remove encroachments in Sariska
Updated on Mar 21, 2018 09:23 PM IST
The suggestions come two days after a male tiger was killed in Sariska.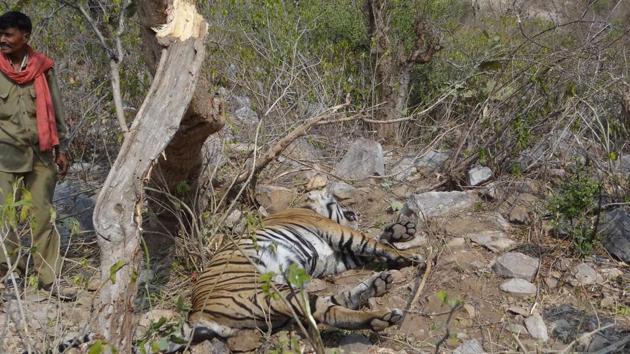 The Sariska Tiger Reserve (STR) authorities have received suggestions from the National Tiger Conservation Authority (NTCA) asking the state to shift commercial activities, remove encroachments, stop grazing and trespassing in the reserve.
This comes after Dr Debabrata Swain, additional director general forest (project tiger) and member secretary (NTCA) took a tour to STR in January 2018. The suggestions come two days after a male tiger was killed in Sariska. A tigress 12-year-old tigress (ST-5) had also gone missing on February 24.
In a letter to the state government, Swain has asked the state forest department to remove commercial establishments, such as homestays, hotels and shops from Critical Tiger Habitat (CTH), as it is in contravention of the Wildlife Protection Act, 1972.
He has also suggested a curb on passersby and pilgrims feeding wild animals and asked the state to take necessary action as it is against the Wildlife Act.
He asked the government to take action against encroachments. In some areas, revenue land is being cleared of vegetation and being encroached upon, which is illegal.
Swain also said that ramping lopping of trees and grazing in the CTH should be stopped as they interfere with conservation goals. Trees such as Acacia leucophloea and Catechu are being lopped off inside STR.
Focusing on the impact of pilgrimage on increasing human-wildlife interface, Swain also suggested the forest department to review the activities as Pandupol and Bharthari temples are located in the CTH.
"We have placed signs on the roads directing people not to feed animals and forest officials have been asked not to allow eatables inside. Strict action will be taken under Wildlife (protection) Act 1972," said chief conservator of forest and field director Sariska Tiger Project (Alwar) Govind Sagar Bharadwaj.
Bharadwaj also said that he has already given directions not to allow any new construction. In case construction is carried out on revenue land, a letter is then written to the district collector.
"Our staff makes efforts to stop illegal grazing and lopping, but any action leads to demonstrations by locals leading to a law and order situation, which demoralises the force," he said.
On shifting of villages, he said that it's a voluntary process.
Founder secretary, Sariska Tiger Foundation, an NGO, Dinesh Verma said, "Till the villages inside STR are shifted, the required management cannot be maintained. It has to be the priority as tigers have been reintroduced in STR and only three of 29 villages have been shifted." He added that all issues will be resolved once the villages are shifted after paying "good compensation".
Personalise your news feed. Follow trending topics