Pehlu Khan lynching case: No SUV spotted in CCTV cameras of nearby places, say Alwar police
Four witnesses in the Pehlu Khan lynching case, including his two sons, and two others alleged they were shot at by unidentified men while they were on their way to depose in a local court in Rajasthan's Alwar district on Saturday.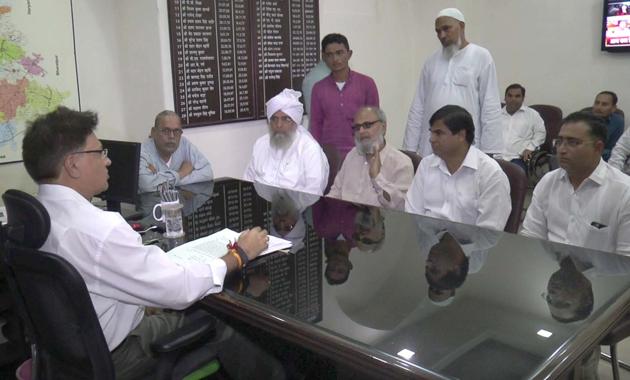 Updated on Oct 01, 2018 12:51 PM IST
Hindustan Times, Alwar |
, Alwar
Devendra Bhardwaj
A day after six witnesses in the Pehlu Khan lynching case alleged that they were fired upon by unidentified men in a black SUV, Alwar police said no such vehicle was spotted in the CCTVs at Neemrana toll booth and nearby hotels.
"No Scorpio (name of the SUV) crossed the toll booth 10 minutes before the alleged attack on the witnesses and 15 minutes after it," said Kushal Singh, the deputy superintendent of police of Neemrana.
"We took the six of them separately to the place of incident and found deviations in their versions. There are variations in the spot where the alleged firing occurred. The difference is 100 metres to 300 metres," the police officer said.
Singh added they were awaiting technical information such as call details and cell phones tower locations to verify claims of the witnesses, including Pehlu Khan's sons, Irshad and Arif.
Irshad and Arif, along with four others, were travelling to the ADJ court in Behror to depose in the Pehlu Khan case on Saturday. They said some men in a black Scorpio without a registration number signalled them to stop and when they didn't, men from the vehicle opened fire at the six of them. Lawyer Asad Hayat, who was in the vehicle carrying the witnesses from Haryana's Nuh district, said, "We didn't stop our vehicle, as the SUV did not have a number plate. The vehicle came nearer and the men started abusing us, telling us to stop at once. Then they overtook us and fired at us." He said they took a U-turn to avoid the SUV.
Hayat and others drove straight to Alwar superintendent of police office to report the firing.
However, Kushal Singh said that no bullet shell was found near the site of the alleged incident and no shopkeeper or hotel staff heard or saw the firing. "So far the facts stated by them in their FIR have not been verified during investigation. But police are still waiting for technical information," he added.
The six witnesses had on Saturday said that they had no faith in Neemrana police. That was the reason why they didn't report the attack on them to Neemrana police station and drove straight to the SP's office, they said. They have demanded that the trial of Pehlu Khan's case should be transferred to Alwar or Tijara court from Behror.
Pehlu Khan, 55, a dairy farmer from Haryana was attacked in Behror on April 1, 2017, when he was taking cattle bought from a fair in Jaipur to his village in a vehicle. Khan succumbed to his injuries in a hospital two days later.
Close Story
Personalise your news feed. Follow trending topics