Pehlu Khan lynching: Witnesses, sons 'shot at' on way to court in Alwar
Sep 29, 2018 06:59 PM IST
The witnesses' lawyer Asad Hayat said that men in a black Scorpio shot at them near Behror town where they were to depose in a local court. Police are however verifying their claim.
Four witnesses in the Pehlu Khan lynching case, including his two sons, and two others were allegedly shot at by unidentified men while they were on their way to depose in a local court in Rajasthan's Alwar district on Saturday, following which they have sought moving the hearing to another court.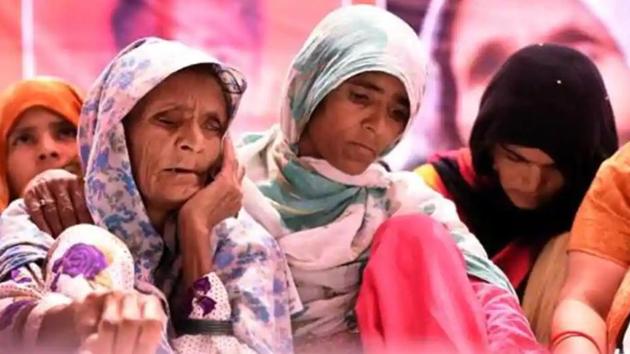 Pehlu's sons Irshad and Arif, witnesses Azmat and Rafiq, their lawyer Asad Hayat and the driver were travelling from Nuh in Haryana to Behror town of the district to depose before the additional district judge's court.
"When we crossed Neemrana and had just passed Maharaja Hotel on the highway, a black Scorpio without a number plate signalled us to stop," Hayat said.
When they didn't stop, the men in the SUV, "who had hid their face with one hand", started abusing them. "The vehicle then overtook us and they fired at us," Hayat said, adding that they then took a U-turn and went through some villages to reach Alwar, where they filed a complaint with the superintendent of police Rajendra Singh.
The four were witnesses to the April 1, 2017 lynching of Pehlu Khan by cow vigilantes on suspicion of smuggling cattle for slaughter.
The lynching happened when Pehlu Khan and Azmat, in one pickup truck, and Arif and Rafiq in another vehicle, were returning to their home in Nuh in Haryana after buying cattle from a market in Rajasthan's Alwar. Pehlu Khan succumbed to injuries two days later.
Rafiq, who is Pehlu's cousin, has asked the SP to move the hearing from Behror court to any other court in Alwar.
Pehlu's son Irshad said if such incidents happen, it will not be possible for them to appear in the Behror court.
Lawyer Hayat also concurred, saying, "How can we depose in such circumstances? The case should be transferred from Behror to Alwar."
Asked why they didn't inform the local police, Hayat said, "Behror police is not trustworthy because they gave a clean chit to the six witnesses named in the FIR. That's why we approached SP directly."
However, Singh, the Alwar SP, said any conclusion would be made only after the inquiry. "We have directed the deputy superintendent of the area to examine the facts and evidences, after which we will take further action."
A police team along with the witnesses reached Behror in the afternoon to examine the spot of the incident.
"We are ready to provide full security to all witnesses in the case. As far as the transfer of Pehlu Khan case from Behror to Alwar city is concerned, it comes under the judiciary," he said.