Perform or face action: Devnani to teachers
Updated on Jul 28, 2015 04:32 PM IST
In a veiled threat, education minister Vasudev Devnani on Monday said the government would review the teaching performance of the leaders of teachers' associations and take action if they were found wanting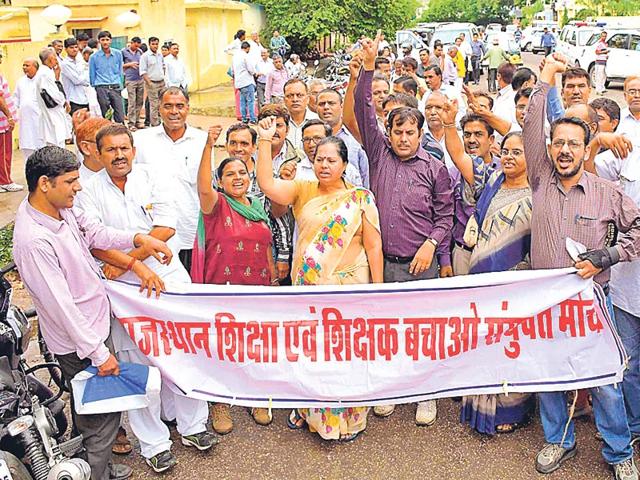 In a veiled threat, education minister Vasudev Devnani on Monday said the government would review the teaching performance of the leaders of teachers' associations and take action if they were found wanting.
Various teachers' associations in the state are up in arms against the new staffing pattern and the proposed public private partnership in government schools, among other issues. They have planned a protest in Jaipur on July 29.
"We will scrutinise the work done by leaders of teachers' organisations in the past three years. We will also assess other teachers and if they are found not up to the mark, action will be taken against them," Devnani said in a press conference on Monday.
"There are around 54 associations currently. We will review them and give recognition to those which pass the quality parameters," he added.
Devnani admitted certain lapses in the new staffing pattern and shortage of teachers in the state. "In my estimation, Rajasthan lacks around 13,000 teachers and lecturers for government schools and colleges. But we will try to fill all the vacant posts by July 31. Stress is on the point that wherever there are students, we will provide teachers. I promise you that no village will have lack of teachers when there are students willing to study."
The minister said the Rajasthan Board of Secondary Education will conduct the Rajasthan Recruitment cum Eligibility Exam for Teachers.
"We have initiated filling of around 48,000 vacant teachers' posts across the state. Under staffing pattern, we have also ensured that schools in remote regions too can have sufficient teachers. Yes, there are mistakes in the staffing pattern and we are trying to rectify them," he said.
Devnani highlighted the point that over the past year, the number of students getting enrolled in government schools had increased due to the government efforts. On the increased school timings, he said, "We are following the CBSE school pattern and have initiated a compulsory 6 ½ hours of teaching by teachers to uplift the standard of education. The teachers will have the flexibility to choose their desired hours of teaching but it should be 6 ½ hours every day."
Transfer policy soon
The education minister has said that the new transfer policy will be announced soon. "The transfer policy will be in place before the next academic session. We will put it online within two months and invite suggestions and recommendations. We could not implement it this time due to the staff pattern," he said.
The transfer policy has been a longstanding demand of teachers to streamline the transfer process that currently sees a lot of political interference due to pressure from MLAs and ministers.
Devnani said the new policy has been prepared after studying the policies of Gujarat, Maharasthra, Madhya Pradesh and Karnataka.
Close Story
Personalise your news feed. Follow trending topics