Rajasthan first in the country to launch project leopard
Mar 10, 2017 07:11 PM IST
Project aimed at mitigating human-leopard conflicts and conserving the leopard population.
Rajasthan has become the first state in the country to launch a project to conserve leopards by improving their prey base, mitigating conflicts with humans and controlling poaching.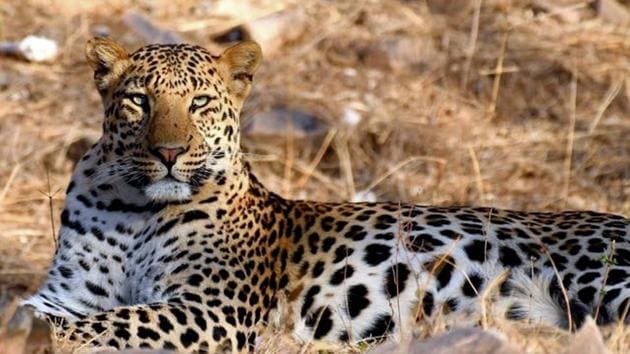 Leopard is an endangered animal under schedule one of the Wildlife Protection Act, 1972. The big cat's population in Rajasthan has declined over the years. According to 2015 wildlife census, there are 434 leopards in the state. Around 20 leopards have been killed between 2014 and 2016 in accidents or by humans when they strayed into human habitations or agricultural fields.
Chief minister Vasundhara Raje announced Project Leopard in her budget speech for 2017-18 on March 8 and set aside ₹7 crore for it.
"Many a time's leopards enter human settlements adjoining forest areas. Many incidents of human-leopard conflict have come to light. Due to this, there is resentment among the public. But there are examples where humans and leopards co-exist peacefully," she said while announcing the project.
HT has accessed an exclusive copy of the proposal that the forest department sent to the CM for the project.
According to the proposal, Project Leopard will run in eight sanctuaries – Jaisamand Sanctuary in Udaipur, Bassi Sanctuary in Chittorgarh, Shergarh Sanctuary in Baran, Kumbhalgarh Sanctuary-Raoli Todgarh Sanctuary (stretched from Ajmer to Udaipur), Mount Abu Sanctuary-Sundamata Conservation Reserve (Sirohi and Jalore), Jhalana Aamagarh Conservation Reserve in Jaipur, Jawai Conservation Reserve in Pali and Khetri Bansyal Conservation Reserve in Jhunjhunu.
These sanctuaries are spread across 1926.80 square kilometres.
"The project work plan will be to mitigate man-leopard conflict, conserve leopard population by countering the threats the predator's faces and create goodwill between local communities and leopards," said a senior wildlife official associated with the project. "In conserving leopards, the project will also boost conservation of bears, lesser cats, other smaller mammals and prey species, and support leopard conservation through capacity building, research and monitoring," he added.
Pressure is exerted on protected areas by grazing livestock, extraction of fodder, timber and non-timber forest products and illegal occupation. These lead to human-animal conflict inside forests.
"Several animals have started moving into habitations and agriculture fields as there is an increasing in the wildlife population, non-availability of food and water inside forests and protected areas. This is leading to man-animal conflict. Conflicts with leopards are generally violent and are on the increase," the proposal read.
Between September 2016 and February 2017, six people were killed by leopards of Sariska Tiger Reserve, who strayed into peripheral villages. A leopard with a broken canine was later trapped and sent to Jaipur.
The steering committee of Project Leopard will be chaired by forest minister; principal chief conservator of the forest will be the vice-chairman, chief wildlife warden, and member secretary. Directors of eight leopard sanctuaries, chief conservator of forest of those areas and wildlife experts will be members of the committee, the proposal said.
The committee will report to the state board of wildlife.