Raje roadshow in Ajmer marks BJP campaign end
Updated on Jan 27, 2018 09:50 PM IST
Rajasthan chief minister Vasundhara Raje held a roadshow in the city in support of the Bharatiya Janata Party candidate Ramswaroop Lamba on Saturday, the last day of campaigning for by-elections for the Ajmer Lok Sabha seat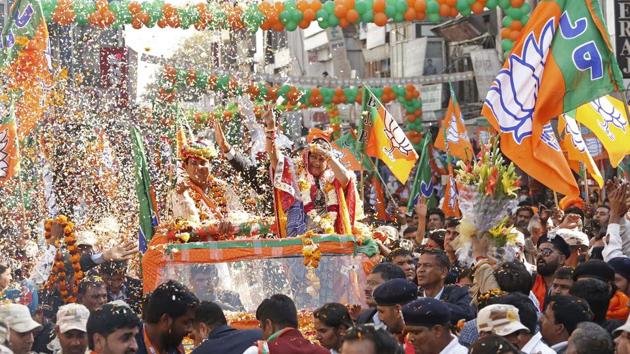 Rajasthan chief minister Vasundhara Raje held a roadshow in the city in support of the Bharatiya Janata Party (BJP) candidate Ramswaroop Lamba on Saturday, the last day of campaigning for by-elections for the Ajmer Lok Sabha seat.
The roadshow begun from the Rajacycle churaha, traversed through the city before concluding at the Bajarangarh circle.
The BJP cavalcade was greeted by a large number of people present who had gathered along the route.
People showered flowers on the open jeep Raje and party candidate Lamba were travelling in. Senior party workers and members of Raje's cabinet participated in the roadshow.
Earlier, Raje addressed party workers and asked them to ensure that no party voter is left out from voting on January 29, the day of the polling . Raje asked booth presidents to reach out to as many people as they can before the poll day and ask them to vote in favour of the party.
BJP party workers in caps, party scarf sported the lotus symbol on both their cheeks. Hundreds of party workers on two-wheelers painted in the party colours, flying party flags preceded the chief minister's cavalcade.
Welcome gates were erected along the route. At Bajarangarh circle, Raje addressing the crowds, appealed to people to vote for the party candidate in keeping in view of the development projects undertaken by her government during the last four years.
Later, Raje visited the Ajmer Dargah and the Jain temple in Nareli to pray for the party's victory.