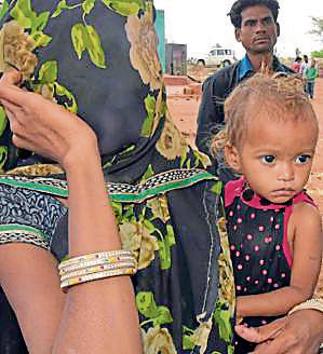 State needs regular programme to tackle severe acute malnutrition
UPDATED ON MAY 01, 2017 08:51 PM IST
Mona's upper arm measures 105mm. In January this year, the one-year-old was diagnosed with a case of severe acute malnutrition (SAM) and advised to be taken to the nearest malnutrition treatment centre (MTC). But, four months later, her mother said has been unable to visit the centre as she was busy with work.
SAM is identified with a middle upper arm measurement of less than 115mm. In healthy children, it's 125mm or more.
Akash, who is 31 months old and whose middle upper arm circumference is 110mm, is also suffering from SAM, but her parents are concerned about earning daily wages than taking him to an MTC.
The youngest of eight siblings, 19-month-old Razia was identified with SAM when her arm measured a mere 100mm. There's a marginal improvement now – it measures 107mm – but her parents, too, are busy earning a living and can't take her for malnutrition treatment.
These children in Baran district's Kishanganj block in south-east Rajasthan were identified when the government started a Community Management of Acute Malnutrition (CMAM) programme for children who are between six and 59 months old. The programme ran in 13 districts, including Baran, from December 2015 to June 2016 as a pilot.
Under the programme, children suffering from SAM were provided nutrition at their doorstep, eliminating the need for them to visit MTCs, where they are admitted for a minimum of 20 days affecting wage days of their parents.
Sanjay Kumar, the advocacy manager of ACF International, which is committed to saving lives of malnourished children, said that after the programme ended, children with SAM were left untreated as their parents couldn't take them to a treatment centre.
ACF partnered with the Rajasthan government for CMAM last year. Other partners were Global Alliance for Improved Nutrition (GAIN) and UNICEF.
"Treatment at home is two times more effective than that at a hospital," said chairperson of the inter-ministerial task force on SAM, Dr MK Bhan. "More than 80% children recovered through CMAM, and this recovery rate is better than the global standards," he added.
Rajasthan is planning to run the second phase of the programme soon in seven new districts and aims to cure at least 16,000 SAM cases in 20 districts.
Dr Bhan, however, warned that a phase wise approach won't help and the government needs to run the programme. National Health Mission's chief in Rajasthan, Naveen Jain, too called for a national policy for making CMAM a continuous programme.
Health minister Kali Charan Saraf has said that he will speak to the Centre soon.
But until CMAM becomes a regular programme or Rajasthan starts the second phase, Mona will have to wait for her parents to find time to take her to a treatment centre.
(All names have been changed to protect identity.)
Close