Alwar police find body of suspected cow smuggler after chase, about 20 cows rescued
Feb 25, 2018 07:18 PM IST
This is the latest in a series of incidents related to cow-smuggling in eastern Rajasthan.
The Alwar police on Sunday morning recovered the body of a man, suspected to be a cow smuggler, from an abandoned vehicle and rescued about 20 cows, police said.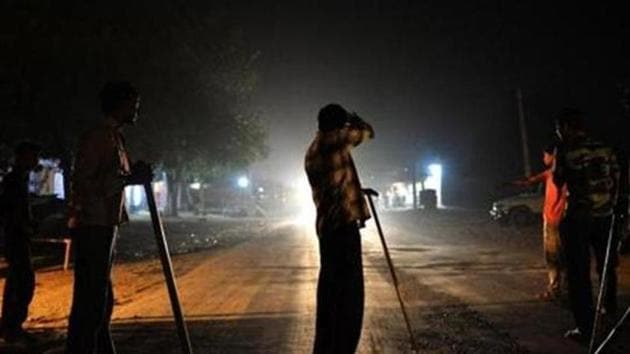 Alwar superintendent of police Rahul Prakash said the Baswa police of Dausa district received a tip-off about a vehicle smuggling cows and set up barricades in a bid to stop the vehicle.
"The smugglers broke the barricades... During the chase by the Dausa and Alwar police teams, the smugglers opened fire although no one was hit. Police also responded with firing," he said.
The Alwar police chief said the chase did not go on for long as two of the tyres of the vehicle were deflated. It hit a cement block and the smugglers fled into the darkness.
"During a search of the vehicle, we found a body and the cattle. The man may have died while trying to escape," Prakash said.
Police said they were trying to identify the man with the help of several mobile phones found in the vehicle. The body was taken to Alwar government hospital for the post-mortem.
This is the latest in a series of incidents related to cow-smuggling in eastern Rajasthan.
On November 10, 2017, the mutilated body of 35-year-old Umar Mohammad of Ghatmika was found on the railway tracks in Alwar. Police said he and two others were transporting cattle when "anti-social elements" attacked them. A badly damaged pick-up truck was recovered nearby. Later, police arrested Umar's companions, Tahir and Javed, on the charges of cow smuggling.
In December that year, an alleged cow smuggler was killed in an encounter with police in Alwar. Police said the deceased man, along with 5-6 others, was smuggling cows in a pick-up truck, and was killed in an exchange of fire with the police in district's Janta colony.
In September 2017, the Rajasthan government had appointed additional director general of police (crime) Pankaj Kumar Singh as the nodal officer to curb cow vigilantism. Additional superintendents of police in Alwar and Bharatpur were made the district nodal officers on directions from the Supreme Court.