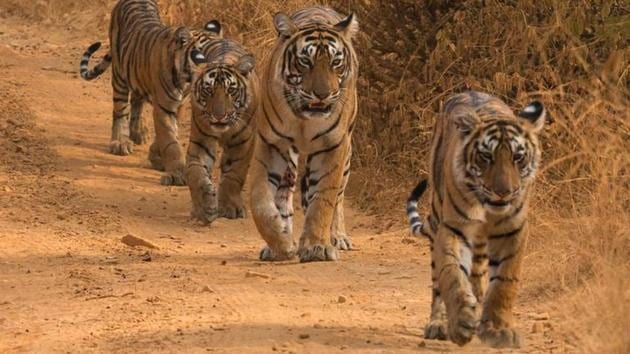 Tigress spotted with two cubs in Ranthambore
T-83, also called Lightning, was spotted with two cubs on Saturday
UPDATED ON APR 01, 2018 09:50 PM IST
There's good news from Ranthambore. A tigress, T-83, also called Lightning, was spotted with two cubs on Saturday.
Lightning is the granddaughter of India's most iconic and endearing big cat, Machhli, which died of old age in 2016.
Ranthambore field director YK Sahu said the four-year-old tigress was spotted with two cubs on Saturday in Amma Ghati area of the Ranthambore Tiger Reserve (RTR). This is her first litter.
With the new cubs, the tiger population at the reserve has reached 67. This includes 20 males, 25 females and 22 cubs.
Earlier in February, Lightning's sister Arrowhead (T-84) was spotted with two cubs. "The chances of survival of the T-84 cubs are weak as the mother is not taking care of them. Generally, a tigress does not bring her cubs out till their eyes open but here the cubs were seen moving out," said an RTR official. He added that T-84 had mated with T-86.
The news came as a big relief to tiger conservation in Rajasthan after the state lost two tigers last month — a four-year-old male tiger, ST-11, in Sariska Tiger Reserve (STR) and a 13-year-old tiger, T-28, also called Star, in RTR.
Close