Tribal youths from Jharkhand, Chhattisgarh get lessons in heritage, skills
Two hundred youngsters from the Maoist-affected areas of Jharkhand and Chhattisgarh were in Jaipur for the past one week and learned about various things ranging from Rajasthan's architectural and cultural heritage to career avenues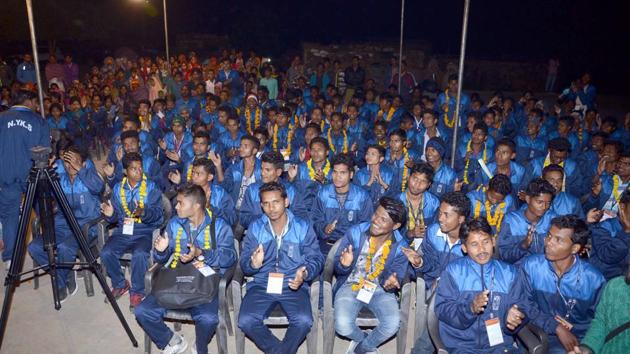 Updated on Dec 25, 2017 08:09 PM IST
Two hundred youngsters from the Maoist-affected areas of Jharkhand and Chhattisgarh were in Jaipur for the past one week and learned about various things ranging from Rajasthan's architectural and cultural heritage to career avenues.
The youngsters, aged 18 to 25 years, were here under the 10th Tribal Youth Exchange Programme, which started on December 19 and concluded on Monday. The programme was a joint initiative of the union home ministry and the union ministry of youth affairs and sports.
"The idea behind the programme was to involve these youngsters in nation building. In addition, this helped in getting them exposure and was directed towards achieving parallel development of the areas they come from," said Mahesh Kumar Sharma, district coordinator of Nehru Yuva Kendra, Jaipur, which managed the programme.
During the week, the youngsters attended lectures on various topics and visited the city monuments such as Amer fort, Jantar Mantar and Albert Hall Museum. They were also taken to Lalwas, where the 83rd battalion Central Reserve Police Force (CRPF) is stationed. They learnt about the riot control exercises by the CRPF officers.
At the Bhagwan Mahaveer Viklang Sahayta Samiti centre, the visitors learnt about Jaipur foot, an artificial limb that simulates natural limb functions. A physically challenged youth among the visitors was fitted with the Jaipur foot at the centre.
Manita Kumari (22), a student of MA History from Chatra, Jharkhand, said that she was overwhelmed by the welcome and attention she got in Jaipur. "The way people are welcomed here is impressive. We were also taught a lot of things and told to share the lessons back home," said Kumari.
A youth from Chhattisgarh said that he found the culture of Rajasthan "generous" and the education level "high". "I got to know that there are so many things we can do after Class 12 or even Class 10. I wanted to take a miniature elephant for home, but could not buy due to hurry," said Sunil Kumar Gota (21), who hails from Narayanpur, Chhattisgarh and doing BA economics.
Close Story