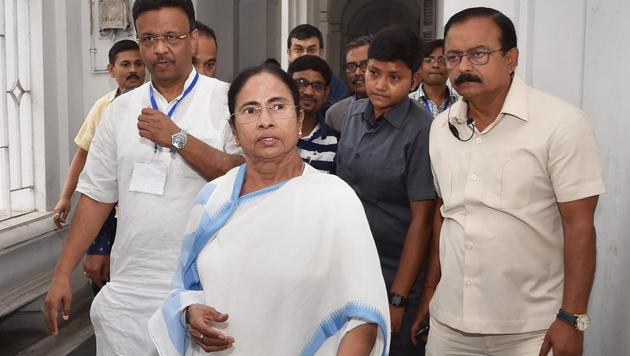 Bengal rural polls will be bloody, predicts BJP state chief Dilip Ghosh
Saffron delegation meets state governor to complain against ruling Trinamool's 'strong-arm tactics' and seek deployment of central forces for the electoral contest.
UPDATED ON APR 03, 2018 08:06 PM IST
A BJP delegation met West Bengal governor Keshari Nath Tripathi to lodge a complaint against the strong-arm tactics allegedly adopted by the Trinamool Congress on Tuesday, the second day of filing nominations for the rural elections.
"The state government has decided to conduct the elections in connivance with goons and police. It is opposed to deployment of central forces for the elections. Ruling Trinamool Congress supporters attacked our candidates when they went to file their nominations on Monday and Tuesday," BJP state president Dilip Ghosh told mediapersons after meeting the governor.
Ghosh asserted that Tripathi was also in favour of deploying central forces for the elections. "The governor told us that he will be calling the chief secretary and home secretary. He will meet the state election commissioner on Wednesday. He is concerned by all this violence too," he said, predicting that "the elections will be bloody" with the loss of 70-100 lives.
The Bengal rural elections will be conducted across 48,751 seats at 3,358 gram panchayats, 9,240 seats at 341 panchayat samitis, and 825 seats at 20 zilla parishads in three phases (May 1, 3 and 5). Counting will take place on May 8.
These polls are crucial as a Trinamool sweep may bolster chief minister Mamata Banerjee's position in the state, thereby putting her in a better position to cobble up a united front of regional parties to take on the BJP in the 2019 Lok Sabha elections.
The Trinamool Congress reacted sharply within minutes of Ghosh addressing mediapersons at the gate of the governor's house. "The people of the state find it difficult to believe in the neutrality of this governor," said Partha Chatterjee, state education minister and party general secretary.
The minister remarked that he has never come across a governor who desires the deployment of central forces for rural elections. "But then, I have heard this from Dilip Ghosh, and not the governor himself. In that case, the governor must deny the statement," he said.
The state BJP chief had also told mediapersons that the party's state unit plans to summon candidates who were prevented from filing their nominations to Kolkata. "They will come to the state election commission and insist on completing the formalities at its Kolkata office," he said.
Opposition parties accused Trinamool Congress supporters of employing strong-arm tactics at several places, including Lalbag in Murshidabad district, Suri and Labhpur in Birbhum district, and Arambag in Hooghly district.
Chatterjee brushed aside Ghosh's accusations by stating that "the BJP has no faith in democracy".
"The polls will be peaceful," he said.
A 25-year-old man, Mizanu Rahman, was killed in Malda district's Kaliachak village after he was caught in the crossfire between two rival factions of the Trinamool Congress on Monday evening. Police have arrested two people, both alleged Trinamool supporters, in this connection.
The governor is expected to meet the state election commissioner at Raj Bhavan around 12 noon on Wednesday.
Close