Journey to the twilight zone: Hear from a scientist who descended to 1,000 m
Feb 08, 2023 03:15 PM IST
Sendhil Kumar spent 10 days aboard the research vessel Odyssey, and dove in a glass-bubble submersible to spend a few hours in the twilight zone.
"There were corals stretched out like the Great Wall," says Sendhil Kumar, one of three Indian scientists to descend to a depth of 1,000 metres, as part of the Nekton Maldives Mission conducted in September.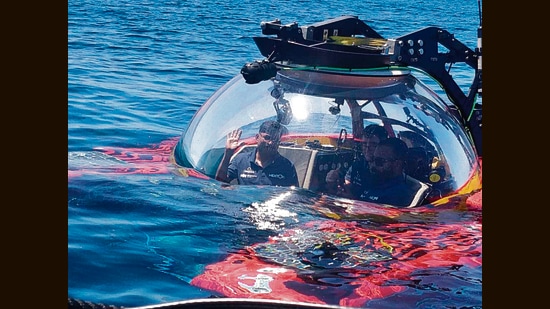 This mission was the first systematic survey and sampling of the biodiversity in the waters around the Maldives. Scientists from India, Sri Lanka, UK, and the Maldives surveyed a chain of 26 coral atolls in an operation led by the Maldives government and the UK-based ocean-research foundation Nekton.
Kumar, of Kochi's Centre for Marine Living Resources and Ecology (CMLRE), spent 10 days aboard the research vessel Odyssey, and dove in a glass-bubble submersible to spend a few hours at 1,000 metres, in the twilight zone. At 500 metres, the mission found a unique underwater ecosystem of submerged volcanic ridges and fossilised carbonate reefs, formed 60 million years ago. Further down were the coral beds, teeming with life.
CMLRE, which operates under the ministry of earth sciences, aims to conduct such deep-sea surveys in the waters around India. Edited excerpts from an interview with Kumar and GVM Gupta, director of CMLRE.
What was it like at 1,000 metres?
SK: It was an unimaginable experience. We descended in complete comfort. With the floodlights and 360-degree visibility, we could see corals stretched out like the Great Wall of China, for hundreds of metres. At first, it looked deserted. But suddenly they appeared out of nowhere, thousands of fishes and other sea-dwellers, surrounding us.
How long will it be before India conducts such explorations of its own?
SK: India's Deep Ocean Mission intends to. Only the ministry of earth sciences has the mandate for deep-sea exploration. Under it, the National Institute of Ocean Technology (NIOT) in Chennai and CMLRE are the agencies tasked with doing this, one for the purposes of mineral exploration and mining resources; the other to create an inventory of living resources in the waters around us without disturbing the natural ecosystem.
What kind of exploration have we undertaken so far?
GVM Gupta: For 38 years, the fishery research vessel Sagar Sampada has been used. It can reach depths of 1,500 metres and we have made over 400 expeditions on board this untiring vessel. With it, we drop nets and collect samples to study deep sea living resources and their biodiversity. Despite all these efforts, a lot more is still to be studied and mapped from the Indian waters and with submersibles and remotely operated vehicles (ROVs), it is possible to study these depths more accurately.
Is there a plan to develop such vehicles indigenously?
GVM Gupta: NIOT has been developing a manned submersible that can seat three and descend to 6,000 metres, as well as ROVs. But that's for deep-sea mining activities and to explore non-living resources on the seabed. For our requirement, which is to explore living marine resources, we are focusing on bilateral missions and joint exercises.