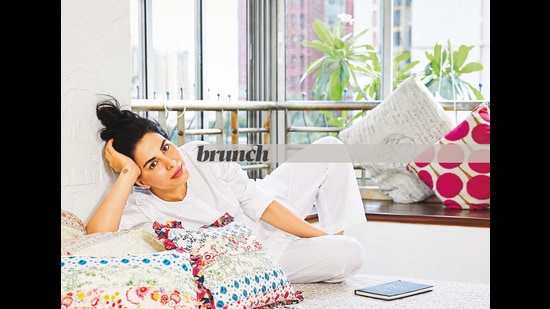 "I dream of flying over cities and oceans," says Kirti Kulhari
The actor talks about her love for horror films, learning to give space to the people she loves and also fight for that space, and enjoying a hot cup of black coffee at breakfast
By Dinesh Raheja
UPDATED ON JUL 18, 2021 09:54 AM IST
Kirti Kulhari believes in giving her all, whether it is to her performances or her desire to help people. On a mangal mission to garner critical acclaim with films like Pink and Uri and web series like Criminal Justice and Bard Of Blood, Kirti is equally keen on doing a romcom.
She has a statue of Lord Vishnu in her tastefully done-up rented apartment because an astrologer told her it would help accentuate her proclivity for helping others.
When you drop in at her house — it's largely decorated in white — Kirti is likely to make and serve you piping hot cutting chai laced with ginger and black pepper.
List three things nobody knows about you.
1. I am an amazing badminton player.
2. I love horror films.
3. I am super scared of crocodiles — when I'm in water, it plays on my mind.
Do you like watching TV in the bedroom?
Yes. I watch international cinema, animated films and documentaries. I don't have cable but I have a smart TV.
Tell us a recurring dream.
I am flying over cities, forests and oceans.
Your first thought when you wake up?
Let's get up and get going.
One relationship rule you always follow.
I feel there should be no rules as such in relationships. But something that I've learnt the hard way is to give space to the people I love and also fight for that space if I have to.
What is the coolest thing about being an actor?
You live out your fantasies and also get to be so many people.
Describe yourself in a hashtag
#Free.
Your dream breakfast in bed?
Anything to do with eggs — Eggs Benedict, French toast or anda bhurji — accompanied by toast butter and jam, a glass of orange juice and a steaming hot cup of black coffee.
Your preferred side of the bed? And why?
The right side, probably because I think from the right side of the brain, I am right-handed and I am a woman.
This or that?
Pancakes with honey or malpua dripping with chashni?
Pancakes with honey.
Surfing the sea or surfing the net?
Surfing the sea.
Watching yourself on screen or watching other actors?
Other actors. Because that will give me so much more to see.
Bedside stories
What's on your bedside table?
A Himalayan salt lamp, books, my personal diary, my glasses and cream to moisturise my hand and feet.
The last thing you do before going to bed?
I listen to some spiritual talk before I sleep.
Who is your 2 am friend?
I have many, fortunately.
From HT Brunch, July 18, 2021
Follow us on twitter.com/HTBrunch
Connect with us on facebook.com/hindustantimesbrunch
Close