5 facts about feeding cats every pet parent should know
Feb 04, 2023 04:59 PM IST
New cat parents pay attention; here are rules to feed your feline friend that will ensure they not only enjoy their meals but also get proper nutrition.
Nutrition plays a significant role in overall health of your cat and while your feline friend loves to set their own rules and adore their independence, when it comes to food, you must take charge and decide on the frequency of their meals as well as the foods that are nutritious for them. It is advisable to not let your cat munch multiple times a day and set timings for their daily meals. This will not only ensure they don't overeat but also creates a sense of security that comes with predictability of their routine. (Also read: Can your cat eat dog food? Here's what you need to know)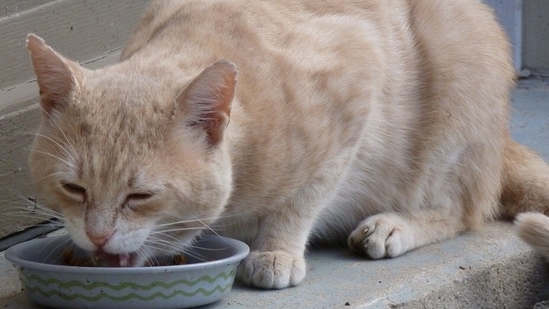 Pet parents must not fall for popular beliefs and check facts on cat nutrition before feeding anything to them. There is a popular myth that cats love milk, but in reality, most cats are lactose intolerance and can develop stomach ache, nausea or vomiting after having milk. Also, your cats are carnivores so do not add vegetables to their diet as they can't digest them well.
"A cat is a wonderful addition to your family. The first year of your feline's life is critical and can be overwhelming for pet parents trying to choose the right diet. A wholesome nutritious diet is key to supporting their long-term health," says Dr. Adarsh J, Veterinary Doctor and Asst. Techno-commercial & product manager, Drools Pet Food.
Dr Adarsh lists important facts about feline nutrition that can help you avoid some common mistakes:
1. Cats are obligate carnivores
Cats have a biological requirement for a diet that is high in animal-based protein and low in carbohydrates. Their bodies are adapted to efficiently process and utilize nutrients found in animal tissues, such as muscle meat, organ meat, and bone, rather than plant-based proteins.
2. Cats require essential nutrients
Taurine is an essential amino acid that cats require in their diet. It plays a crucial role in several physiological functions, including heart health, vision, and the proper function of the reproductive and nervous systems. Most commercial cat foods contain added taurine to ensure that cats receive the necessary amounts of this amino acid. However, it's still important to check the ingredient list and nutritional information on cat food labels to ensure that your cat is receiving an adequate amount of taurine.
3. Wet food and its advantages
Wet food, also known as canned or soft food, is a type of cat food that is moist and has a higher water content than dry food. Wet food has a stronger aroma and a more appealing texture than dry food, which can make it more enticing for picky eaters. It can keep them hydrated and provide higher amounts of animal-based protein and essential nutrients compared to dry food.
4. Popular flavours in the cat food
Fish is a popular flavour for cat food and can be a good source of animal-based protein and essential nutrients for cats. Some common fish flavours for cat food include:
• Tuna: It is high in protein and omega-3 fatty acids, which are beneficial for a cat's skin and coat health
• Salmon: It is a good source of protein and omega-3 fatty acids, and is also rich in vitamins and minerals such as B vitamins, vitamin D, and calcium
• Sardines: Sardines are small, oily fish that are an excellent source of protein and essential nutrients such as omega-3 fatty acids and taurine
5. Overfeeding can lead to obesity, which can cause health problems
Obesity is a common problem in cats and can have serious health consequences including diabetes, joint problems, urinary tract problems, and decreased lifespan. The factors that contribute to obesity in cats include overeating, a sedentary lifestyle, and a diet that is high in carbohydrates and low in protein. To prevent obesity in cats, it's important to feed a balanced diet and to measure portion sizes accurately. Additionally, providing opportunities for physical activity, such as playtime, scratching posts, and interactive toys, can help keep your cat active and maintain a healthy weight.
In case you have concerns about your cat's weight and nutrition needs, it's best to consult a veterinarian for personalized recommendations.