Amit Shah bike rally in Madhya Pradesh Highlights| BJP chief flags off nationwide Vijay Sankalp bike rally
Mar 02, 2019 11:15 PM IST
BJP President Amit Shah launched a nationwide mega bike rally in Madhya Pradesh on Saturday, ahead of the Lok Sabha polls to be held later this year.The party said in a statement on Friday that over one crore of its workers will reach out to people across the country and share the "achievements" of the Narendra Modi government with them.Shah will launch the exercise from Umaria in Madhya Pradesh during his one-day tour of the state on Saturday.The rally will be carried out in more than 3,800 locations in states, including Uttar Pradesh, Maharashtra, West Bengal, Bihar, Tamil Nadu, Madhya Pradesh, Karnataka, Rajasthan, Gujarat, Andhra Pradesh, Odisha and Kerala, the party said.Follow highlights here
1:40 pm IST
BJP bike rallies across 3800 bike rallies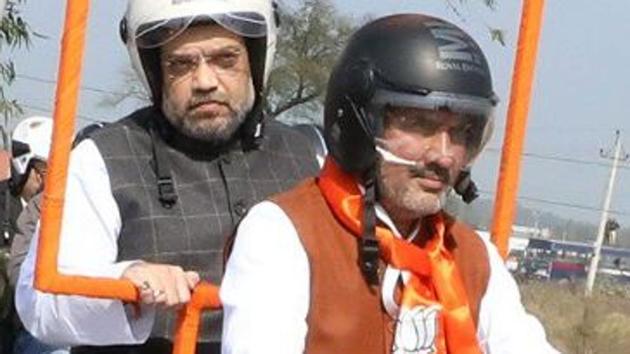 BJP's Vijay Sankalp rally is being carried out in more than 3,800 locations in states, including Uttar Pradesh, Maharashtra, West Bengal, Bihar, Tamil Nadu, Madhya Pradesh, Karnataka, Rajasthan, Gujarat, Andhra Pradesh, Odisha and Kerala
1:30 pm IST
Amit Shah flags off nationwide Vijay Sankalp bike rally
BJP President Amit Shah launched a nationwide mega bike rally in Madhya Pradesh on Saturday, ahead of the Lok Sabha polls to be held later this year.
1:15 pm IST
Only Rahul, Mamata questioned IAF airstrike on Jaish camp in Pak
Everyone, including Pakistan, believed that India undertook IAF airstrike on Jaish-e-Mohammed camp in Balakot of Pakistan's Khyber Pakhtunkhwa. However, Rahul Gandhi and Mamata Banerjee of the Opposition, were the only ones who questioned whether the airstrike actually happened or not.
The last four days Pakistan had a really hard time, but after Rahul Gandhi's comment, they got an opportunity to be happy.
1:10 pm IST
Only Modi govt is capable of giving a befitting reply to Pak: Amit Shah
"Why is the point of holding elections? Because one is now old enough to become PM, or becuase because they just feel like it or because a family wants their 'prince' to become the PM," asked BJP national president Amit Shah.
"An election must be held to ensure the security of the nation, to give way to fast economic development in the country and also to hit back and give a befitting reply to Pakistan that arrested our IAF pilot. It is only the Narendra Modi government that can do all of this," he said.
1:03 pm IST
Amit Shah welcomes IAF pilot Abhinandan Varthaman
Before inaugurating the nationwide vijay Sankalp bike rally, BJP national president today welcomed IAF pilot Abhinandan Varthaman back in India.
Wing Commander Abhinandan Varthaman was on Friday night released by Pakistan. He was in Pakistan Army's custody since Wednesday morning after his aircraft was shot down and he landed in Pakistan-occupied Kashmir following an aerial dogfight with the jets of Pakistan Air Force.
2:55 pm IST
Delhi BJP president Manoj Tiwari flags off bike rally in Delhi
State BJP president Manoj Tiwari saturday flagged off the party's Vijay Sankalp Bike Rally in Delhi.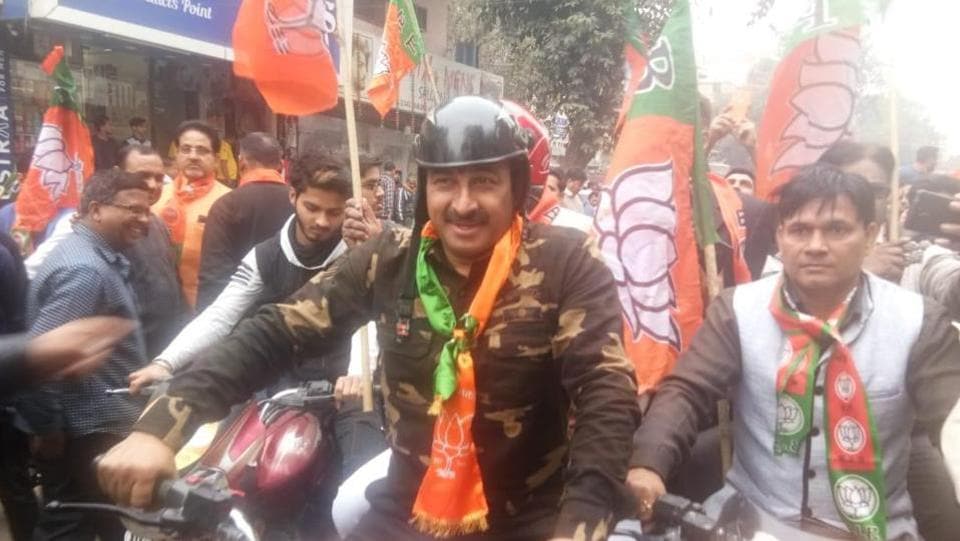 12:43 pm IST
Amit Shah reaches Madhya Pradesh's Umria
BJP national president Saturday reached Madhya Pradesh's Umria. He will soon launch the BJP's Vijay Sankalp bike rally.
12:35 pm IST
BJP to bike rallies across 3500 locations across India
The rally will be carried out in more than 3,500 locations in states, including Uttar Pradesh, Maharashtra, West Bengal, Bihar, Tamil Nadu, Madhya Pradesh, Karnataka, Rajasthan, Gujarat, Andhra Pradesh, Odisha and Kerala, BJP said.
12:30 pm IST
Amit Shah to hold bike rally in Madhya Pradesh
BJP President Amit Shah will launch a nationwide mega bike rally in Madhya Pradesh on Saturday, ahead of the Lok Sabha polls to be held later this year.