Congress fields two new faces for Manipur Lok Sabha seats
Published on Mar 24, 2019 06:02 PM IST
The Congress has named O Nabakishore, a former chief secretary of the state and K James, a government employee turned entrepreneur as the party's candidates in Manipur.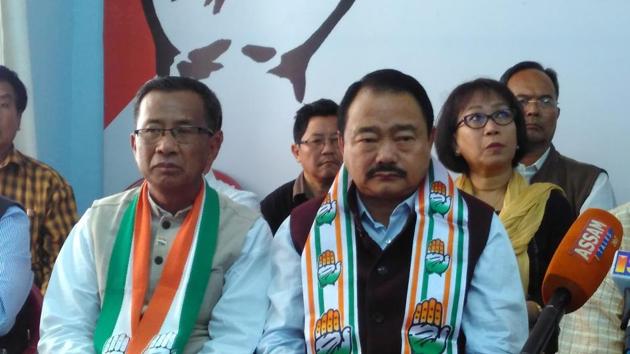 Hindustan Times, Imphal |
Sobhapati Samom
The Congress party has dropped both its sitting Lok Sabha MPs in Manipur and has announced two new candidates to retain the state's two seats - Inner Manipur and Outer Manipur in the upcoming general election.
Late Saturday night, the All India Congress Committee officially released the names of O Nabakishore, a former chief secretary of the state and K James, a government employee turned entrepreneur.
Both of them were selected out of 16 applicants for a party ticket including one sitting MP Dr Thokchom Meinya. The elections in Manipur are due on April 11 and 18.
Thangso Baite, sitting MP of Outer Manipur which is a reserved seat for Scheduled Tribes did not apply for a party ticket this time.
K James told reporters on Sunday said that he loves to take up the issues of the weaker sections in the state as one of his priorities. "My only concern is to work for the uplift of the weaker sections," he said.
O Nabakishore said that he will take up issues reformation in education and development of horticulture and trade as his priorities
Also read: PMO now 'Publicity Minister's Office', Modi good at marketing himself: Rahul Gandhi
Few days back, one of congress party ticket seeker (for the inner Manipur seat) ex-MLA Dr Ng Bijoy along with four ex-MLAs of congress joined North East Indian Development Party (NEIDP), a regional party which had named ex-MLA RK Anand from Imphal West district and Ashang Kasar of Kamjong district as their candidates for inner and outer Manipur Parliamentary Constituencies.
Earlier Bharatiya Janata Party had announced party's state unit spokesperson Dr RK Ranjan and party's state unit vice president H Shokhopao alias Benjamin Mate as their candidates for the inner and outer Manipur parliamentary seats.
On Friday, national president of National People's Party and Meghalaya Chief Minister Conard K Sangma visited the state and launched the election campaign for his party's candidate Thangminlien Kipgen, a former minister from Kangpokpi district for the outer Manipur parliamentary constituency. Similarly Naga People's Front, a coalition partner of BJP in Manipur also named Dr Lorho Mao as their candidate for outer Manipur parliamentary constituency.
Communist Party of India had already filed Dr M Nara as its candidate for Inner Manipur seat. He had finished second in the 2014 elections. Manipur People's Party, one of the oldest regional political party in eastern India named its president O Jugindro as candidate for inner Manipur seat while his colleague Laikham Kaipu from Chandel district as candidates for outer seat.
The BJP formed the government in Manipur after the assembly election in March 2017 although the Congress emerged the single largest party with 28 seats in the 60-member house. The BJP with 21 seats got the support of 4 MLAs each from the Naga People's Front and the National Peoples' Party and one from the Lok Janshakti Party.