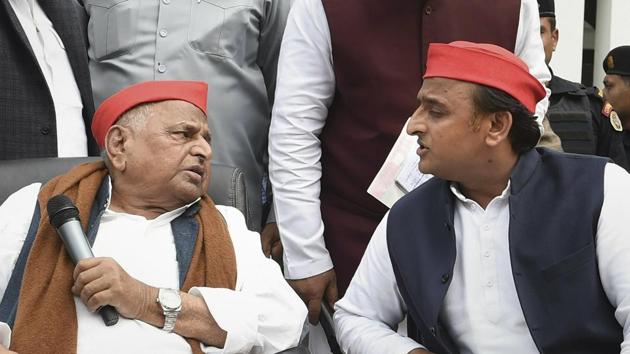 Akhilesh Yadav may contest from Azamgarh to claim Mulayam Singh's legacy
The SP has announced candidates for nine Lok Sabha seats. Mulayam Singh has been nominated from Mainpuri. Akhilesh Yadav's name does not feature in the list.
Hindustan Times, Lucknow | By HT Correspondent
UPDATED ON MAR 09, 2019 05:05 PM IST
The Samajwadi Party announced its candidates for nine Lok Sabha seats in Uttar Pradesh on Friday. The list of candidates includes SP patron Mulayam Singh Yadav, who has been nominated from Mainpuri. Mulayam Singh had won from two seats in 2014 Lok Sabha polls – Mainpuri and Azamgarh.
Mulayam Singh later resigned from the Mainpuri seat, which was represented then by Tej Pratap Teju, a third general politician from the Yadav family. The sitting MP from Azamgarh is likely to be shifted to some Yadav-dominated Lok Sabha seat in Purvanchal, the eastern part of the state.
The SP list does not feature party president Akhilesh Yadav. This has given rise to speculation that he may contest from the Azamgarh Lok Sabha seat. The SP is in alliance with Mayawati's Bahujan Samaj Party in Uttar Pradesh for the Lok Sabha elections.
The alliance makes Azamgarh Lok Sabha seat a safe bet for Akhilesh Yadav. Azamgarh Lok Sabha constituency has large number of Yadav, Muslim and Dalit voters.
Also Read | SP nominates Mulayam Singh Yadav from Mainpuri, puts speculation to rest
Akhilesh Yadav has been contesting and winning Kannauj Lok Sabha seat. He is, however, not a member of the Lok Sabha or the Rajya Sabha at present. He is not even a member of the UP legislative assembly or the legislative council.
He may choose to contest from Azamgarh to send clear signal that he is the true inheritor of Mulayam Singh's political legacy in his party and Uttar Pradesh. The caste calculation at the Mainpuri Lok Sabha seats makes it an SP stronghold, more so with the BSP's backing.
Mulayam Singh had won the Mainpuri seat amid strong Modi-wave in 2014 Lok Sabha polls by a margin of about 3.5 lakh votes. He had won the seat in 1996, 2004 and 2009 also. His victory margin from Azamgarh was narrower compared to the one at the Mainpuri seat in 2014, when he faced challenges from both the BJP and the BSP.
Interestingly, Mulayam Singh's brother Shivpal Yadav has also offered him a ticket on his party's election symbol.
The grand-alliance in Uttar Pradesh also includes the Rashtriya Lok Dal of Ajit Singh. The BSP is contesting 38 seats followed by the SP 37 and the RLD 3. Uttar Pradesh has a total of 80 Lok Sabha seats.
The alliance has decided not to put up candidates at Amethi and Rae Bareli, the Lok Sabha constituencies of Congress president Rahul Gandhi and UPA chairperson Sonia Gandhi.
Close