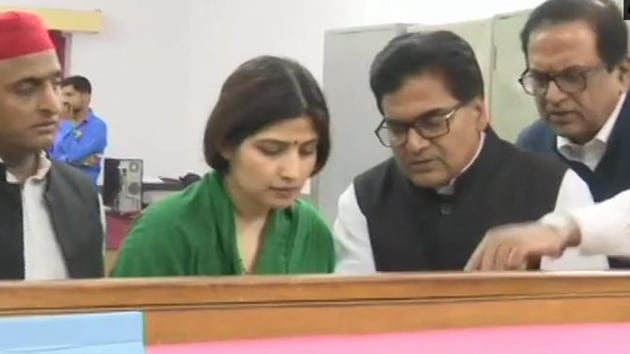 Lok Sabha elections 2019: 'BJP wants our kids them to become chowkidars', says Dimple as she files nomination in Kannauj
Dimple Yadav took a swipe at the BJP for its Main Bhi Chowkidar campaign, saying while children aspire to be officers, the BJP wants them to become chowkidars.
UPDATED ON APR 06, 2019 09:57 PM IST
Dimple Yadav, wife of Samajwadi Party (SP) chief Akhilesh Yadav, on Saturday filed her nomination for the Kannauj parliamentary seat.
Seeking re-election from the same seat, Dimple chose first day of the Navratras to file her papers here.
Calling the BJP government a failure, she said, "After the SP and the BSP joined hands, the victory margin of alliance candidates is set to increase. The BJP did not fulfil its promises and is using the security forces to distract the people."
Addressing workers, she said, Kannauj was a second home to her and she shares a deep bond with the town.
Pointing out to the Union Public Service Commission (UPSC) results which were announced on Friday, she took a swipe at the BJP for its Main Bhi Chowkidar campaign.
"Our children wish to become officers but the BJP wants them to be chowkidar," she said. "A good government focuses on education and creating an atmosphere that allows children to grow."
She also thanked BSP chief Mayawati for her support and asked the SP workers to remember their duty towards the alliance and its candidates.
Akhilesh also attacked the BJP over the chowkidar campaign and insisted that no mother wants her children to become a chowkidar.
He also said the BJP was bringing bullet train for the diamond merchants of Gujarat.
"There is no need for it when jawans need bullet proof jackets," he said.
Ahead of filing her nomination, Dimple inaugurated the election office and offered prayers at the office.
Accompanied by her husband Akhilesh, party vice president Kiranmoy Nanda, national general secretary of Bahujan Samaj Party (BSP) Satish Mishra, SP's Rajya Sabha members Jaya Bachchan and Ram Gopal Yadav, Dimple arrived for nomination on the Samajwadi Rath.
Dimple had first contested election from Firozabad but she was defeated. Later, Akhilesh vacated his seat of Kannauj for her. During Modi wave in 2014, Dimple succeeded in grabbing the seat after defeating BJP's Subrat Pathak with a margin of 19,907 votes.
This time too, the BJP has fielded Pathak against Dimple.
Close