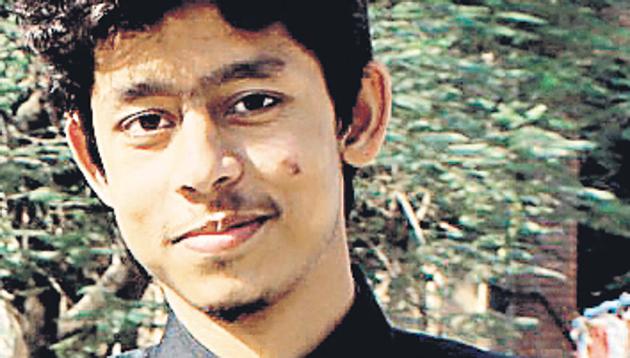 Lok Sabha elections 2019: 'My leader should not spread poison', says first time voter
Mannan's line of study isn't accidental. He is worried about how India's education system functions. Mannan wants to pursue policy research in the education sector, and his area of interest is the primary level of education.
Hindustan Times, New Delhi | By Neyaz Farooquee
PUBLISHED ON APR 22, 2019 07:32 AM IST
Every time he watches television, Talha Mannan becomes anxious. He feels that everything is polarised along religious lines, every issue has become a communal issue; neutral spaces such as schools have become ideological battlegrounds. He is 20, still forming his opinion on most things, but there is one thing Mannan is certain about. "My leader should not be communal. Roads and infrastructure will eventually come, but at least he should not spread poison," said the Bachelor's in education student at Aligarh Muslim University (AMU).
There was a time when his school prayer used to have bits of Saraswati Vandana and Gayatri Mantra. He didn't take part, and his teachers, respectful of his faith, ignored the fact that he didn't fold his hands or close his eyes during the prayer. "They used to give me other responsibilities like ensuring if the queues are formed properly," he said.
But things changed over time, and eventually the teachers wanted him to pray. "They say, 'why are you not doing it; what's the problem in it; if you have any problem, don't come to the prayer'."
Mannan is from Badaun in the Rohilkhand region of western Uttar Pradesh and he attended school in nearby Lakhimpur Kheri, where his school teacher father was posted. His family members have studied in colleges in the nearby towns, but he is the first one to be sent to AMU.
Mannan's line of study isn't accidental. He is worried about how India's education system functions. Mannan wants to pursue policy research in the education sector, and his area of interest is the primary level of education. The first education commission in India was formed in the 1950s, and was meant for university education. "Other countries have even pre-primary level policies. I would like to make these policies, fill the gap, or help improve them," Mannan said.
India does have an abundance of education-related policies and commissions, "many of them great ones", but there is a serious lack of implementation, he says. It is one of the obvious reasons why he had to leave his home town for further studies. His decision is also driven by his experience in his school and surroundings. "Communalism is being injected at the childhood level, and it should be talked about. What's being shown on TV is dangerous." Earlier, it was not liked this, he emphasises.
The Student Islamic Organisation (SIO) plays an important role in his life. The organisation is affiliated with the Jamat-e-Islami Hind, and has some 200,000 members across more than 100 campuses. Among their concerns are socioreligious aspects of life; they believe the root cause of all evil is moral corruption, which keeps society from achieving its perceived glorious past, or future.
"If I were to talk about this campus [AMU] it was built for a certain reason, that all kinds of conversation will happen. But today's youth's engagement is of a different kind; one section talks purely about politics and the other is not willing to go beyond PUBG [Playerunknown's Battlegrounds mobile game]... We talk about taking along both the sections together to bring a change," he said.
Mannan carries a strong sense of community, and a desire to do something for society. He inherited part of this spirit from his father, who was with SIO in his youth and is now with the Jamaat-e-Islami. "I realised that to bring change in society, you can't do it in isolation." In Lakhimpur Kheri, where he attended school, there was no noticeable youth organisation other than the Akhil Bharatiya Vidyarthi Parishad (ABVP). His search was answered in Aligarh in the form of SIO.
Here, he takes part in the organisation's weekly Quran lessons and occasional book-reading sessions – "any book, no bar". He recalls the organisation's last significant activity was releasing a student manifesto a few weeks ago; it demanded that the government fulfils its education-related promises, addresses unemployment among the youth, and acts against rising communalism.
His, and the SIO's, aspirations and language suggest a clear departure from the SIO of his father's days. It is increasingly speaking a language of constitutionalism and of rights. "Earlier, the social and religious aspect was dominant in SIO, but hardly the political. Now, the issues it picks are way more diverse," he said. The organisation no longer shies away from taking electoral plunge. "The reason is that the community has been oppressed so much that it has no other way out other than taking political stand or actively participating in politics. It's now a question of our existence," Mannan adds.
Mannan worries about the future of the country, and thinks more young people need to be in sync with the happenings around.
His constituency, Aonla, polls in the third phase of the ongoing Lok Sabha elections, on April 23. Mannan says his priority while voting would be to choose the least evil. "It's everyone's priority, in fact. That's the only option we have better than the NOTA [none of the above]."
His constituency is a low-profile one, but the other constituency from his district, Badaun, has people's attention. A Samajwadi Party (SP) stronghold for the last two decades, Akhilesh Yadav's cousin, Dharmendra, is vying for re-election here against the BJP's Sanghmitra Maurya. Former MP Salim Iqbal Sherwani was earlier with the SP but after the party's decision to field Dharmendra Yadav from Baduan, moved to the Congress. That dispensability is the story of Muslim's representation in general.
Muslims in Uttar Pradesh traditionally voted for the Congress, but as politics of the region changed over time, a substantial mass shifted to regional parties such as the SP and the Bahujan Samaj Party. While they continue to remain part of these regional parties' winning calculations, they get little in return.
More than 20% of Badaun district's population is Muslim, and the neighbouring districts too have a substantial number of Muslim voters. Education and job prospects remain low for them throughout the region. A large section migrates to cities such as Delhi for jobs or Aligarh for education.
A lack of representation continues to worsen their situation – the state, with a quarter of India's Muslim population, has no Muslim representative in the outgoing Lok Sabha. Because there is a general concern that Muslims are underrepresented in decision-making positions, does India need a Muslim political leadership? Mannan doesn't hide his disappointment. "Muslim leadership exists. It's in Badaun as well. But they don't work for the community," he said. "We have Muslim parties who are asking for votes in the name of being Muslim, but how much work do they do for Muslims?" he asked.
Among the political parties that have successfully championed the marginalised people's cause through identity-based politics is the BSP, and it is an oft-cited inspiration for the weaker communities. Mannan feels that even though the BSP represents Dalits, the work it has done for the community must be critically analysed.
He wants leaders who can show a mirror to the state. "It doesn't matter which community they come from," he said.
Manan often writes poetry in Hindi and Urdu and, much like other digital natives, posts it on Facebook. There was a time when he regularly posted even political content on his Facebook page and hardly anyone objected. "But suddenly, my father was called in by the school because I had shared a post on Rohith Vemula."
Among the broad categories of Urdu poetry, he writes a little of ishq-e-haqiqi (the love for God) and ishq-e-mijazi (love for the worldly affairs such as society or women). His poetry, he says, reflects the nostalgia for a cultural past.
Among his poems that went viral is 'Aligarh Bhool Baitha Hai [AMU has forgotten its legacy]', which recalls the goals his university had – of studying science, philosophy as well as religion – and how the inheritors of its legacy are betraying it now. He has translated an Urdu book into Hindi, and is a subeditor with the Chhatra Vimarsh, a Hindi magazine run by SIO. He has also edited a book of essays – Yuva Vicharon Ka Vishkaran -- that deals with "detoxification of text books".
Born after the mid-1990s, Mannan's Generation Z is described as open-minded, responsible, highly analytical and pragmatic. But Manan's pessimism for the world he inhabits at 20 years of age is not encouraging. "You can only be a pessimist in the leadership situation we have," he said.
But what would he expect from his leader in this situation? "Nothing more than basic things that a society needs – get us education, get us employment, get us at least roads if nothing. I am not asking for religious leadership; I am asking merely for roti-kapda-makan [food, clothing, shelter]."
Close