Lok Sabha elections 2019: Safety and jobs in mind, women come out in droves to exercise franchise
Women as old as 96 years to the Millennials made it a point to vote for the candidate they felt would best represent their interests.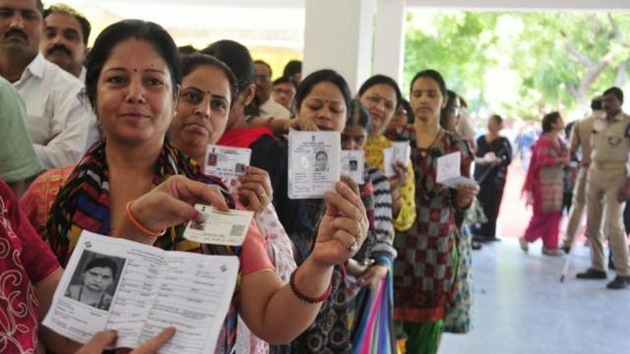 Updated on May 13, 2019 04:09 AM IST
Hindustan Times, Gurugram |
Team HT
To discuss voting is not usual for a group of women huddled under a tree at a hypersensitive polling booth in Ghasera village of Nuh. Sunday, however, was special for them, it was a day to exercise their franchise.
"Elections are important. We have been voting for years and we will continue to do so," Habida, the mother of 24-year-old Khalida, said, visibly excited about the day that comes every five years. She, however, said that she was not too picky about the reasons to select a candidate.
Her daughter, however, held a different opinion. "We can't neglect the issues that we have been dealing with for many years. Voting is our one chance to bring a change. We don't know whether our issues will be addressed by the next government or not, but at least we can make an effort to bring in the change we want."
Ghasera is a largely Muslim-dominated region, and despite fasting for the month of Ramzan, women came out in large numbers to cast their vote.
Women as old as 96 years to the Millennials made it a point to vote for the candidate they felt would best represent their interests.
According to the official electoral data, there were a total of 10,05,174 women voters in nine parliamentary constituencies, constituting 47% of the voter turnout on Sunday.
Like Ghasera and several other places, many women who came to the polling booths in Badshahpur and Farrukhnagar towns were accompanied by their husbands or sons. Most said the candidate they voted for was decided by men in their family.
"We were told at home to vote for a particular candidate, and didn't have much say in the decision," Badshahpur resident Rani Devi said, adding she didn't see any problem with being told whom to vote for. "The important thing is that no vote is lost," she said. Similar sentiments were echoed by women around her.
But for many female voters in Nuh town, long-buried anger had brought them to the polling booth. For example, 35-year-old Nazama felt casting a ballot was important because her growing daughter was unsafe in the city.
Safety as an issue reverberated among women voters in Gurugram too. "Gurugram is not a women-friendly city. Lack of
public transport facilities for women, defunct streetlights and the presence of local goons make it more difficult to go out at night," Seema Kumari, a resident of Dundahera, said.
Meanwhile, women in urban and rural areas said the issue of unemployment was one of the prime reasons they decided to vote. Prabho, 51, and Rama, 54, two daily wage labourers from Bhadas in Ferozepur-Jhirka, said they voted hoping that a new government would create more jobs.
"We are daily wage labourers. There is no job surety for us. Every new day comes with a new challenge. We can only vote and hope the new government does something to benefit manual labourers like us," Rama, who had left her toddler at home to cast her ballot, said.
Eighteen-year-old Kavya, a student of economics at Sri Venkateswara College, Delhi University, who is aware of policies and data, said, "There is no data on employment. Even if it is there, the government has not revealed it. I have voted on the issue because the present dispensation has not done enough."
Close Story