Lok Sabha elections 2019: This Race Course slum waits for its next 'powerful neighbour'
The slum has faced a threat of eviction over the past many years, but the residents have resisted relocation, demanding that they be given houses at their current location only.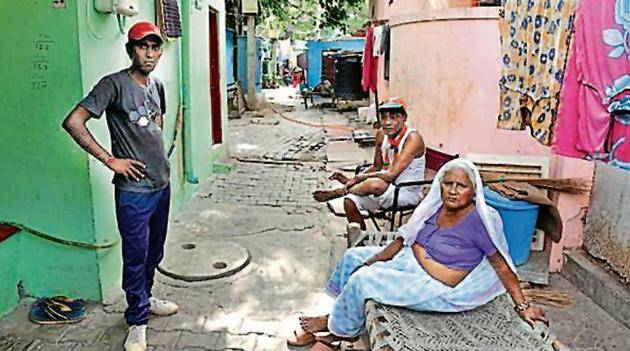 Updated on May 01, 2019 07:33 AM IST
The residents of BR Camp, a slum in the heart of the city, have a 'special interest' in the outcome of the ongoing elections. "These will decide who is going to be our 'powerful neighbour'," says Ramesh Kumar.
By 'powerful neighbour', Kumar means none other than the Prime Minister.
BR Camp, barely 300 meters from the official residence of the Prime Minister on Lok Kalyan Marg (earlier Race Course Road), is a maze of narrow walkways with shanties — made of bricks with corrugated cement sheets serving as roofs — tightly packed together. It is home to around 4,500 people, of whom many work at Delhi Race Club as horse trainers, porters, grooms, jockeys, plumbers and electricians.
The slum has faced a threat of eviction over the past many years, but the residents have resisted relocation, demanding that they be given houses at their current location only.
"Not that our destiny changes with change of a Prime Minister, but we take pride in being his neighbours. Everybody here is politically aware and they vote for a party that assures them they would not be moved elsewhere, " says Kumar, the president of the camp who is called 'pradhan' by the residents.
Kumar, 63, was born and raised here. As we talk, a few men put up a large Aam Aadmi Party (AAP) banner on the newly built public toilet in front of his snacks shop, and Kumar does not seem amused. "There was a time when 80% people here supported the Congress. Now, their votes are divided between the Congress, AAP, and the BJP," says Kumar.
In 2014, the Aam Aadmi Party (AAP) leader Arvind Kejriwal had visited the neighbourhood and cleaned a choked drain as part of the Swachh Bharat Abhiyan. The cluster falls under his New Delhi Assembly seat.
Behind the shop of Ramesh Kumar is a temple, which is the hub of the community activities in the slum. This is where visiting politicians meet the residents.
It has a plaque saying it was inaugurated by former Prime Minister India Gandhi in 1982. "She had promised to bring development to this place and we were so excited. But unfortunately, after her death in 1984, nothing changed for us except that her son, Rajiv Gandhi, became Prime Minister and moved into our neighbourhood," says Shanti, 70, (who goes by one name), and has been living in BR Camp for 45 years. The now renamed Race Course Road has been the official residence of the Prime Minister of the country since 1984.
The old-timers say the slum — known as 'coolie camp colony' until the 1970s — is as old as Delhi Race Club, which was established in the 1940s. The road to the slum is lined with hundreds of stables.
"Our livelihoods are linked to the Race Club and our youngsters have nothing to do when the race club closes during summer. Politicians come every five years, make promises of alternative employment for us and then we never see them, " says Rakesh Roy, 37, who was born and brought up in the colony. "I do not think the chief minister or the MP has even once visited us in five years," says Subkan, 74. "We haven't had any politicians coming for campaigning yet. But soon, they will make a beeline."
It is late afternoon and many of the residents are playing cards in groups on the road leading to the cluster; women are cleaning utensils outside their huts — some very small, others large — signifying a social and economic hierarchy within the slum.
Almost every shanty has a cooler, a large plastic water tank and a dish TV antenna. One can see gleaming Royal Enfield motorcycles parked outside some of the shanties. The narrow walkways have been blocked at several places by laundry lines.
Shiv Kumar, who lives with his three children, including a young daughter, says that the political loyalties of the residents are divided but BR camp is a close-knit community with people from all religions and castes living in perfect harmony. "There is no caste and communal divide here. The rest of the city and even the country can learn from us. This place is perfectly safe for women. I have never had to worry about the safety of my daughter, " says Shiv Kumar.
Rashmi Thapa, 20 who lives a few huts away from Shiv Kumar, says a lot of her friends and relatives in other cities are surprised when they tell them that she lives so close to the country's PM. " The biggest benefit of living in the PM's neighbourhood is that security around the slum here is very high. There are no cases of thefts or eve-teasing," says Thapa, who has studied up to class 12 and has also done a vocational training course in make- up art. She wishes to open her own parlour someday."The young women of this colony are bright and ambitious. The government should open some vocational centres for them in the area," adds Thapa.
Most young girls of the slum work in call centres, shops, showrooms and in beauty parlours in south and central Delhi. One can see many young women in jeans, their hair coloured, chatting on smartphones or returning from work on scooters.
There are many like Paras Ram, 55, a gardener in a Delhi park who says the biggest benefit of living close to PM's house is that they get uninterrupted power. "I hope the PM understands the plight of his neighbours. The new government should give our colony a special slum status and we should be given houses here," says Ram, who has been living in the colony since 1981.
Close Story