Lok Sabha polls 2019: 'Pragya Thakur's candidature reply to those who insulted Hindus by coining the term Hindu terror,' says Maharashtra CM Fadnavis
Devendra Fadnavis says he doesn't support remarks against Karkare; Modi wave is in rural areas this time; BJP will win all 10 seats in MMR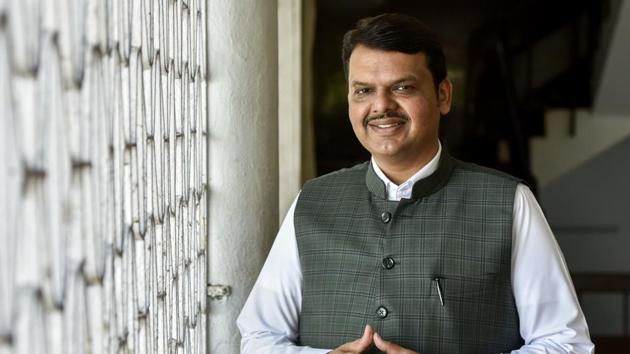 Published on Apr 24, 2019 12:58 AM IST
Defending the decision to field Malegaon blast accused Pragya Singh Thakur, chief minister Devendra Fadnavis on Tuesday said the move is a befitting reply to those who insulted Hindus by coining the term, Hindu terrorism. He said Thakur should not have made the remarks against Karkare, who gave his life for the country. He said there is a silent wave in favour of Prime Minister Narendra Modi which will lead the BJP to another victory in the ongoing Lok Sabha elections. In 2014, the wave was among the middle class voters but this time it is among the lower strata of society, which is not vocal like middle class. Fadnavis also said the BJP-Sena combine will win all 10 seats in Mumbai Metropolitan Region, including six in Mumbai as the government has taken up infrastructure projects on an unprecedented level.
Excerpts from an interview:
There is no visible wave in the state as we saw in 2014. Don't you think it will affect the Bharatiya Janata Party-Shiv Sena performance in Maharashtra?
This time, the wave is in rural areas. The voting percentage has not gone down significantly. In 2014, we saw a massive wave among the middle classes. There was euphoria which you could feel. That section is already with us. This time, the wave is more in the lower strata of society, which is not vocal. It is not part of any exit or opinion polls. As such, we can sense a silent wave. Ask a farm labourer or common man, they will say they want Modi. It's all about Modi. He is major factor. At several places people vote for him and don't look at the candidate.
How many seats will the BJP-Sena win in Maharashtra?
Both the phases went well for us. We should be able to retain our 2014 tally. The political situation is so favourable that we can even get more than 42 seats. If we lose any seat, it would be because of our inability to handle things politically. People want to vote for us. We are working well. I won't comment on what happened earlier. I am happy.
In 2014, your plan was development. Five years later, you are talking less about development or performance of the government and more about issues such as nationalism. Why?
Our narrative is about both. In his Monday's rally in Maharashtra, PM Narendra Modi spoke for 20 minutes, of which five minutes were on nationalism and the remaining on development issues. Talking about nationalism is inevitable. First, there is a sense of nationalism among people. Second, the Congress manifesto talks about reducing the Army presence in Kashmir, scrapping sedition law or taking away special powers given to Armed forces. In such a scenario, nationalism issue will obviously be there. And why not? Which country's national election doesn't have nationalism as an issue?
Malegaon blast accused Pragya Singh Thakur has been fielded by your party. Why did the BJP nominate her if she was booked for a serious crime?
We are relying on the probe by the National Investigation Agency (NIA). Their investigation says there is no evidence against her. This is a made-up, cooked-up issue. On that basis, the party took a decision to give her the ticket. There is another aspect to it. Around 2007-08, terrorist activities were at its peak in the state. People were being arrested in large numbers. Minorities, especially Muslims, were complaining about action against them and they were going against the Congress-NCP. As such, a counter-narrative was prepared and the Hindu terror narrative was created. One realises this after going through the outcome of NIA investigation. If you are trying to insult Hindus by coining terms such as Hindu terror, this is the reply to it. You troubled her [Thakur], so she will answer back. There is no such thing as Hindu terrorism. Absolutely not.
The remarks made by her about slain police officer Hemant Karkare have put your party in trouble. Do you think it was wrong to field her?
She shouldn't have made such remarks. Hemant Karkare was one of the finest officers. He was honest and laid down his life for the country. She may have had a different experience and may have suffered. Still, it is not right to speak like this about someone who has sacrificed his life for the country. She shouldn't have such things. But even seasoned leaders make irresponsible comments. I would advise her to observe restraint while speaking.
On the one hand, you talk about nationalism and the other, you field a terror accused. How do you justify it?
The prosecution says it doesn't have evidence on the unlawful activities charges against Thakur. She is out on bail, as the prosecution doesn't want to press charges. By the same logic, even Rahul Gandhi is out on bail. He has not been given a clean chit. A crime is a crime. When she gets a clean chit and there is no evidence, then everything changes.
She has made allegations of physical and mental harassment. Are you going to probe?
Her remarks in television interviews can't be a case for probe. If I get any complaint, not just from Thakur, but anybody, and if there is any evidence, as the home minister, it is my responsibility to probe it. However, mere statements on TV can't be the basis of investigation. If there is anything in proper format, we will conduct inquiry according to the rules.
Lawyer Rohini Salian, who was the public prosecutor in the case, had said she was under pressure to go slow on her.
I won't comment on that. Unfortunately, some prosecutors, and I am not talking about Salian, had taken a line. They had taken the responsibility of proving that the Hindu terror theory right. It is not appropriate for me to comment on it, but in the future, all of this will surface.
Maharashtra Navnirman Sena (MNS) chief Raj Thackeray has been targeting your party and his rallies are drawing crowds. How do you react to the issues raised by him?
There is no impact of his campaign, but we are not responding much, so people don't think that whatever he says is true. We pointed out mistakes in what he said — whether about the Balakot strike or claims that we did not bring down F-16 plane or digital village Harisal in Amravati. He is addressing rallies where the Opposition candidates are in good position.
Five years ago, he supported Modi, so why is he anti-BJP now?
Raj Thackeray thinks his politics is over because of the Modi wave. His party could win just one seat in the Assembly and lost the strength in all civic bodies. He realised he couldn't come with us as the ally space was occupied by the Sena. So he went to Congress-NCP. The Congress opposed his entry into the UPA. Now, he is giving outside support and I am 100% sure that he will forge an alliance with the Congress-NCP in the Assembly elections. It won't make much difference to us. The Congress-NCP is exposed.
Investors have been raising concerns over the economy and atmosphere in the country. Won't it affect the flow of foreign investment?
There is no slowdown. If you look at the investment pattern, Maharashtra was getting nine per cent to 11% of the investment coming to India. Now, it is 30 %. This time, we could not register our major investment – Nanar refinery. Else, we would have been at 60%. Global investors are happy and they are bullish on India. They feel the Modi government is doing a good job.
Was the decision to shift the refinery from Nanar taken under pressure from the Shiv Sena?
Our policy is to do everything unanimously. In Konkan, the land acquisition issue is sensitive owing to houses and temples. We will look for an alternative spot. We can do it this year.
It seems the BJP is attacking NCP chief Sharad Pawar more. Are you considering the NCP as your main opponent in state?
Pawar himself announced that he made the mahagathbandhan. He will face the attack. In Maharashtra, the Congress is the B-team of the NCP. The Congress leaders here are clueless. Pawar is even deciding their seats. Congress's leader is Rahul Gandhi, NCP's is Pawar. In Maharashtra, Pawar is well-known than Gandhi, so we are criticising him. In fact, we are targeting both. We have the Congress as an opponent in more seats, while the Sena is majorly facing the NCP. The NCP's highest score, so far, is nine, when they were at the peak in 2004. Now, things have changed. Their seats will reduce.
While in opposition, you were criticising the Congress-NCP leaders for corruption, but now you are importing the same people to boost your chances to win the election. How do you justify that?
Not everybody in the Opposition camp is bad. There are some good people. If we get good candidates and they have elective merit, why should we not take them in the party? If they are accepting our ideology and Modi as the leader, we have no issue. There are no allegations against Sujay Vikhe Patil or Ranjitsingh Mohite Patil, whom we have admitted to our party. If it was about giving shelter to scamsters, half the NCP would have come to us.
What happened to the action against those involved in scams? Are you going slow on them?
[NCP leader] Chhagan Bhujbal went behind bars. Recently, we submitted an affidavit in the Nagpur bench of the Bombay High Court (in irrigation scam). It has a clear and strong stand of the anti-corruption bureau, which is backed with evidence. All I can say is our affidavit goes in that direction only.
How is the synergy with your ally working out?
There was pressure from voters on us to forge the alliance. There was no problem at our level, but we were worried whether our ground-level workers would come together after four-and-a-half years. It has worked out as we were together in the past for a long time.
There are reports that some Sena candidates are battling anti-incumbency. You think forging ties with the Sena was a right call?
It was absolutely right. The local incumbency of the candidate will not matter because of Modi factor. Even if candidates are facing the heat of incumbency, they will get elected.
You were the only person in the BJP who could convince Uddhav Thackeray to join the NDA.
I have good personal equations with Uddhavji. We understand the political reality. There were differences of opinion, but how long can it be stretched? Both sides know what happened after we snapped ties in 2014. We have learnt our lessons.
Are you willing to take up a responsibility at the Centre, if the BJP returns to power?
I don't think I will be called to take up any responsibility at the Centre. If I am asked to do so, it will be a pleasure to work with Mr Modi.
Will the BJP-Sena manage to retain the six seats in Mumbai? You are facing challenge from the Congress-NCP.
We will win six seats in Mumbai and other four seats in the Mumbai Metropolitan Region. We have taken up infrastructure work on an unprecedented level. Projects such as coastal road, Mumbai trans-harbour link and Navi Mumbai airport, which were stuck for years, have been put on fast track. People will support us. In fact, due to the construction of Metro lines, people are facing traffic jams, but they are not complaining, as it would make their lives smoother once the work is completed and Metro routes get operational between 2021 and 2023.
The International Finance Centre (IFC) planned in Mumbai did not become a reality despite your efforts as the Centre wanted GIFT city in Gujarat to grow.
IFC can be built only in Mumbai. The city is a natural place for IFC. It was built in Gujarat because the previous government did not do it here. As the CM of Gujarat, Modi saw an opportunity. I have a study which I will share with the Centre. It says Mumbai IFC can be complementary to the GIFT city and both IFCs can grow together. In fact, it will also accelerate the growth of GIFT. We will do it. If the Centre was not on board, they would not have agreed to integrate the proposed IFC building in Bandra-Kurla Complex with the bullet train terminal. The designs have been finalised.
What is your reaction to industrialist Mukesh Ambani endorsing Mumbai Congress chief Milind Deora's candidature?
Any person can endorse a candidate. That doesn't mean he is supporting any party. In the last election too, he had given his vote to Deora, but the Shiv Sena won in that constituency. This time too, the Sena will win.
Close Story
Personalise your news feed. Follow trending topics