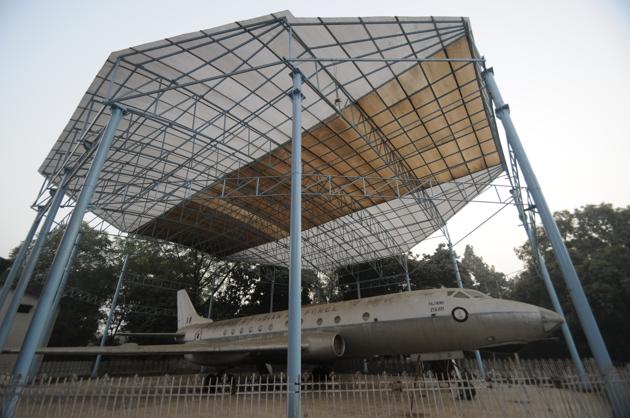 Finally, a hangar for Rajhans at Lucknow's state museum
The aircraft has historical importance as Pt Jawaharlal Nehru used the aircraft when he was the prime minister. Now, plans are afoot to improvise the plane's interiors and make it open for public
PUBLISHED ON DEC 27, 2016 04:32 PM IST
After a long wait, Rajhans TU 124 – the historic aircraft parked on the state museum premises – has got a hangar. "The project had been pending for over two years. There were some anomalies in it and therefore the project was re-designed. But it has finally been completed now," said Yashwant Singh Rathore, director state museum.
Plans are also afoot to improvise the interiors of the plane and make it open for people, said Rathore.
The aircraft has historical importance. Officials say Pt Jawaharlal Nehru used the aircraft when was the Prime Minister. Later, it was gifted to the museum. Special arrangements were made to ferry the aircraft from the Lucknow airport to the museum premises.
Ever since, the Rajhans has been an attraction for visitors.
Digital guide for visitors
A mobile app 'Digital Personal Guide' was also inaugurated at the museum.
"The purpose of the app is to enable visitors locate various objects displayed at the museum on a click. This would help them in visiting the desired locations across the museum, even if they have limited time," said Rathore.
To begin with, the digital guide would have details of nearly 50 objects displayed in the museum. The app would give the brief history and other information about the objects.
The security settings have been so made that people would not be able to take printouts of the details displayed at the museum once they move out of the museum premises. The connections would be discontinued soon after the visitors exit the museum, he added.
Close