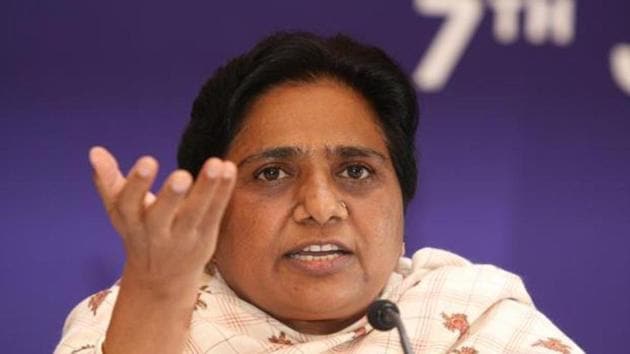 Mayawati expels former BSP MLA for alleged role in Bajrangi's murder
The killing of gangster Munna Bajrangi in Baghpat district jail took a political tenor after Bahujan Samaj Party president Mayawati on Wednesday expelled former MLA Lokesh Dixit for "anti-party activities"
PUBLISHED ON JUL 13, 2018 03:04 PM IST
The killing of gangster Munna Bajrangi in Baghpat district jail took a political tenor after Bahujan Samaj Party (BSP) president Mayawati on Wednesday expelled former MLA Lokesh Dixit for "anti-party activities".
Dixit had accused Bajrangi of demanding extortion and lodged an FIR against him at Badaut police station in Baghpat in September last year.
Zonal coordinator of the BSP Satyapal Pepala said, "Dixit has been expelled from the party on the direction of 'behenji' (Mayawati). He has been expelled on charges of indulging in anti- party activities."
A senior BSP leader, who did not wish to be named, said Dixit was expelled after his name cropped up in Munna Bajrangi murder case.
"Mayawati had asked district office-bearers to look into the role of Dixit in Bajrangi's murder in Baghpat jail and submit a report," he added.
"In its report, the party's Baghpat unit office-bearers informed Mayawati that Narayan Dixit, brother of Lokesh, had bagged a railway contract in east UP with the help of gangster-turned-politician Dhananjay Singh," he said.
Bajrangi's wife Seema Singh had on Monday accused Dhananjay of hatching the conspiracy to kill her husband in jail.
"Dhananjay, a former BSP MP, was expelled from the party on charges of anti-party activities. He contested the 2014 Lok Sabha election from Jaunpur Lok Sabha seat as an independent candidate but was pushed to fourth position securing 64,137 votes. These days he was seen hobnobbing with BJP leaders and came closer to gangster Brijesh Singh, an archrival of Bajrangi," the BSP leader said.
He added Dhananjay had played a pivotal role in bagging the BSP ticket for Rajbala (mother of Sunil Rathi who allegedly killed Bajrangi in jail), who contested the 2017 assembly election from Chaprauli assembly seat.
Bajrangi's wife Seema Singh alleged that Dhananjay started hatching conspiracy against her husband after he came to know that he (Bajrangi) was planning to contest 2019 Lok Sabha election from Jaunpur.
"With the help of local leaders, police officers, prison staff and criminals, Dhananjay got my husband murdered," she said.
Bajrangi had unsuccessfully contested 2012 assembly election on Apna Dal ticket from Mariahu assembly seat in Jaunpur.
A police officer, who did not wish to be named, said: "Dixit had moved a petition in Baghpat court for the appearance of Munna Bajrangi in the extortion case. The court directed the police to produce Bajrangi before the court."
Despite his lawyer's demand that the hearing be held via video conferencing, Bajrangi was shifted from Jhansi to Baghpat district jail on July 8.
Bajrangi had been attending hearings in other cases through video conferencing.
"The jail staff was aware of a rivalry between Bajrangi and criminals lodged in the jail yet he was lodged in the cell with Vicky Sunehra, allegedly a member of Rathi gang. Bajrangi was shot dead by Rathi on July 9 morning," he said.
The officer said the pistol was smuggled into the jail breaching three security layers. "The killers had smart phones as pictures went viral on social media immediately after Bajrangi was killed," he said.
EXPELLED LEADER REFUTES ALLEGATIONS
Former BSP MLA Lokesh Dixit, who was expelled from the party on Wednesday, refuted allegations that he had a role in the killing of gangster Munna Bajrangi inside Baghpat jail.
"I am into politics and business and have no connection with criminals. I know Dhananjay as he was also in the BSP. I was expelled from the party when I objected to 'behenji' taking money in return of party ticket," he claimed.
When told that BSP leaders of Baghpat district unit have accused him of lodging an FIR against Bajrangi at the local police station on the direction of Dhananjay Singh and that his associates arranged a meeting between an aide of Dhananjay and Sunil Rathi in the jail, Dixit said he had no connection with Rathi.
Dixit accused Mayawati of giving protection to criminals. "She has given ticket to gangster-turned-politician Mukhtar Ansari who is lodged in Banda district jail. Bajrangi was a sharp shooter of Ansari gang. He had unleashed terror in the state by demanding extortion from businessmen, contractors and doctors. I have lodged two cases against Bajrangi at the local police station," he said.
Close