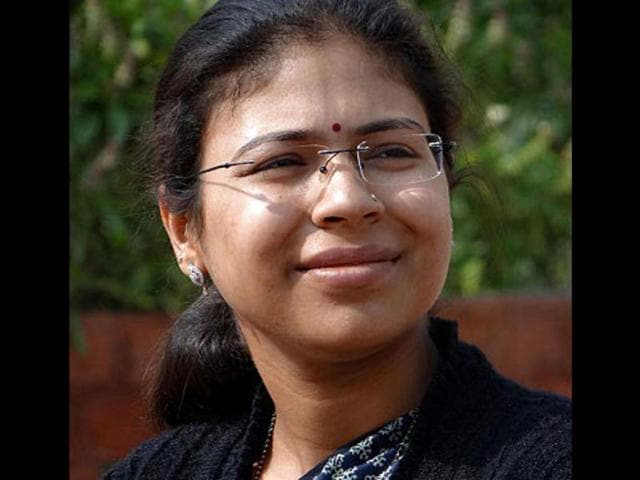 SP leader Shivpal Yadav backs Akhilesh action against SDM Durga
Even as pressure mounted on the Akhilesh Yadav govt for withdrawal of the suspension of Noida SDM Durga Shakti Nagpal, the state executive committee of Samajwadi Party today backed the govt's 'firm disciplinary action' against officer. HT reports. Activist who took on sand mafia gunned down in Noida
UPDATED ON JUL 31, 2013 10:35 PM IST
Even as pressure mounted on the Akhilesh Yadav government for withdrawal of the suspension of Gautam Buddha Nagar sub-divisional magistrate Durga Shakti Nagpal, the state executive committee of Samajwadi Party on Wednesday backed the government's "firm disciplinary action" against officer.


Addressing a press conference in Lucknow, PWD minister Shivpal Yadav said that the conduct of the officer was highly objectionable, as it was fraught with serious communal trouble. He said the issue had come for discussion at a meeting, attended by SP chief Mulayam Singh Yadav, chief minister and other leaders.
Nagpal, a 2009-batch IAS officer, was suspended a few days ago for ordering demolition of a wall at a religious place. However, opposition parties have alleged that the suspension was done to appease the mining mafia against whom the SDM had launched a crackdown in recent times.
Strongly refuting the mining mafiosi theory, Yadav said the demolition of the wall of an under-construction mosque in the village was a "highly irresponsible" act for which the officer had been punished.
"(The) mining issue is not at all involved in punishment to the officer," Yadav repeatedly asserted. He said some forces had been misleading the people to serve their vested interests.
Claiming that a conspiracy was hatched by some people to create communal trouble in the minority-dominated village, Yadav said that the officer rushed to demolish the wall instead of investigating into the complaint of "outsiders".
Issuing a stern warning to officers to be careful in dealing with communally-sensitive areas, Yadav said slackness in this connection would not be tolerated.
To a question about SP general secretary Ram Gopal Yadav asking for revoking for the suspension, Shivpal said he (Ramgopal) had asked for probe and now the government would decide the further course of action.
"She had done a wrong had thus been punished," Yadav said and added there was no objection of the farmer on whose land the wall was being constructed.
He said the government had given full protection and liberty to honest officers to discharge their duty.
The tone and tenor of Yadav amply reflected that the government was unlikely to give any relief to the officer immediately. Nagpal had already reported to the board of revenue office, Lucknow where she would be attached during her suspension period.
Earlier, addressing a separate press conference, BSP chief Mayawati had assailed the government for harassing an honest and dedicated officer. Mayawati said the SP government had launched reign of terror against honest officers.
Close